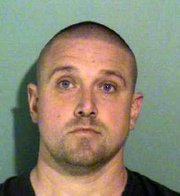 DALLAS -- A Grand Ronde man was taken into custody June 11 on an accusation of robbing a Dallas credit union earlier this spring.
Dallas Police arrested Richard Louis Whittington, 35, late last Thursday afternoon and charged him with robbery and attempted robbery of the Oregon First Community Credit Union branch in Dallas.
Whittington is lodged in the Polk County Jail. His bail is set at $240,000.
The suspect was arrested shortly after his vehicle was spotted by Det. April Welsh near the intersection of Orchard Drive and Denton Avenue, according to a statement from Tom Simpson of the Dallas Police Department.
Whittington is accused of robbery in an April 16 incident at the credit union and attempting to rob the same branch again on April 27. He has been charged with one count each of robbery in the first and second degree, and one count each of attempted robbery in the first and second degree.
The investigation is continuing and additional charges may be pending, Simpson said.
Anyone with additional information regarding these incidents should contact Det. Welsh or Det. Steve Dankenbring of the Dallas Police Department at 503-831-3516.
Polk County sheriff's deputies assisted with the arrest.