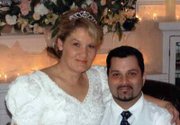 Swindle-Hendrix
Mindy J. Swindle of Dallas and Jeremy W. Hendrix of Dallas were married Feb. 22 at Church Street House in Salem.
The bride is the daughter of Billy and Karey Swindle of Dallas. The groom is the son of the late Lorne and Patricia Hendrix.
The Rev. Mary Spies officiated the ceremony.
Maid of honor was Tessa Stamps. Flower girls were MaKenzie Halleman and Summer Hendrix. Best man was Chris Smith. Ringbearer was Hunter Hendrix.
Mindy, a 1996 graduate of Dallas High School, is a rural mail carrier for the U.S. Postal Service in Willamina.
Jeremy, a 1994 graduate of Woodland (Wash.) High School, is a server at Murphy's Grill in Dallas and cook at North Dallas Bar & Grill.
The newlyweds honeymooned at Mount Shasta in California. They make their home in Dallas.
More like this story