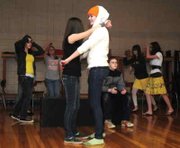 DALLAS -- Students at LaCreole Middle School are excited to put on a play that they can relate to.
On Friday, March 13, and Saturday, March 14, at 7 p.m., sixth-, seventh- and eighth-graders will take the stage at Dallas High School's Bollman Auditorium. The show, "Lockers," is made of 11 vignettes and depicts life in middle school, JuliAnn Lindemann, director and drama teacher, said.
She said the show was chosen because students have done fantasy pieces in the past and they requested a show that shares details of their generation.
"There is a lot of awkward and frightening stuff (in middle school)," said student Dani Peterson.
Each actor takes on a multitude of characters as the vignettes tell stories of sibling rivalry, boyfriends, first slow dances, cheating, sneaking out of the house and peer pressure.
"All of the drama in the play is like the drama in real life," student Savanah Klumpp said.
Student Ally Millmaker said she enjoys performing the piece because it is fun to step away from her own drama and focus on the characters' drama.
The students said it can be tough to switch who they are playing so quickly, especially as many of the girls act as boy characters. Lindemann said she had 49 girls audition Jan. 16 and 17 for a handful of female roles. However, only two boys auditioned.
Even though the play was written in 2000, Lindemann said the cast had to update the script. It called for students to carry Walkmans and described past TV shows. The script was updated to include iPods, current slang and the TV show "Degrassi."
Klumpp said younger students will enjoy the show because it will give them a sense of what challenges to expect in middle school and high school. Peterson said the older generations will enjoy it because it will remind them of their youth.
Admission to the shows is free. For more information, contact LaCreole Middle School at 503-623-6662.