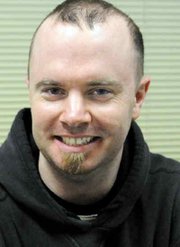 MONMOUTH -- The student suspended from Western Oregon University for bringing firearms on campus will likely file a lawsuit.
This follows Western's rejection on Feb. 27 of an appeal by Jeffrey Maxwell for reinstatement.
Maxwell's attorney, Jim Leuenberger of Lake Oswego, said he plans to file in U.S. District Court in Eugene before the end of the week.
Maxwell, 30, of Lebanon was kicked out of school on Feb. 10 after he was stopped by campus security personnel and arrested by Monmouth Police on Jan. 28 for carrying a knife and pistol into the Werner University Center.
Maxwell also had an unloaded semiautomatic rifle in his vehicle parked on school grounds. No criminal charges were filed.
Maxwell challenged his suspension not long afterward, aided by Leuenberger, whose legal fees are being paid for by the Oregon Firearms Federation.
"The tragedy here is that a man is being punished by losing his semester because he was prepared and able to defend himself," Leuenberger said.
Leuenberger said the lawsuit stems from a violation of Maxwell's civil rights, and will request financial compensation.
The defendants won't be the university as a whole, but individual administrators of Western and student members of a conduct committee who handed down sanctions against Maxwell, Leuenberger said.
"We'll get names in discovery," Leuenberger said. "Everybody whose fingerprints are on this decision, we'll sue."
He also said the Monmouth police officers who arrested Maxwell would be included in the case because "the arrest was illegal because my client's conduct wasn't illegal."
Maxwell didn't return an e-mail request for an interview by press time.
Lisa Catto, public affairs specialist for Western, said she wasn't aware of any pending litigation and that the university couldn't comment on Maxwell's conduct status.
In addition to the suspension, the conduct committee required Maxwell to write a 10-page paper on obeying the law and to have a psychological evaluation prior to being allowed back to campus.
In a Feb. 27 written response to Maxwell's appeal, Tina Fuchs, Vice President of Student Affairs, said Maxwell's punishment pertained solely to a knife with a 6-inch blade he was carrying and the rifle in the truck.
"I don't see that the student conduct committee's response is a 'gross miscarriage of justice' as described in your appeal," Fuchs wrote. "Possession of weapons on campus is an extremely serious offense and there is no place for them at an institution of higher learning."
The school's own charge regarding the Derringer Maxwell had in his front pocket, however, was dropped. Fuch's letter doesn't explain why. That Maxwell was arrested despite having a concealed handgun license for the pistol has generated much criticism from gun activists and even lawmakers in recent weeks.
Fuchs also removed the requirement for the psychological evaluation.
"It's a slight improvement, the evaluation was ridiculous in the extreme," Leuenberger said. "But the 10-page essay ... that should be written by school administrators, not Mr. Maxwell."