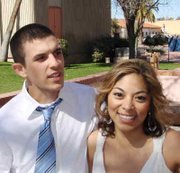 Larios-Liner
Araceli Larios of Salem and Josh Liner of Tucson, Ariz., were married Feb. 14 in Tucson.
The bride is the daughter of Faustino and Micaela Alonzo of Gervais. The groom is the son of Andy and Jackie Liner of Dallas.
Araceli attended Gervais High School. She is an assistant manager at US Bank in Salem. Josh, a 2005 graduate of Dallas High School, is a student.
The newlyweds make their home in Turner.
More like this story