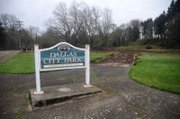 4-H registration
deadline nearing
Wednesday, April 1, is the deadline for adult and youth volunteers to sign up to be part of Polk County 4-H program activities in 2009.
Completed enrollment forms and related fees must be received before 5 p.m. on Wednesday, April 1, in the Extension Service office at 182 SW Academy St., Room 102, in Dallas.
Youths completing grades 4-12 must be enrolled to participate as 4-H'ers in upcoming events, including the Polk County Fair, Aug. 6-9.
For more information: Polk County OSU Extension Service, 503-623-8395.
---
Coloring contest
winners revealed
Lyle Elementary School and Oregon First Community Credit Union have announced the winners of their winter coloring contest.
The contest was open to Lyle Elementary students in grades K-3, and prizes were awarded for each grade level.
First-place winners who received a $50 savings bond from OFCCU were Madelyn Baker, AJ Shafer, Vanessa Sauceda and Amiah Whitzel. Second-place winners of a $25 gift certificate from the Dallas Aquatic Center included Aaron Mattson, Izabella Bong, Robert Clark and Chandler Re. And third-place winners of a $10 Papa Murphy's pizza gift certificate were Megan Fogg, Rachel Burbank, Jacqueline Buller and Hyrum Johnson.
---
Western offering
campus preview
Western Oregon University will host a spring break preview tour of the campus on Thursday, March 26, from 9 a.m. to 1 p.m. at the Werner University Center.
The event is an opportunity for prospective students and their families to learn more about Western. Scheduled activities include information sessions, tours of campus and a complimentary lunch. Prospective students can also apply for admission during the check-in portion of the program.
Advance registration is required. For more information: WOU Office of Admissions, 503-838-8211; on the Web at http://www.wou.edu/admissions.
---
Sale will benefit
area food banks
A "giant barn sale" to benefit local food banks is scheduled March 27-28 from 7 a.m. to 4 p.m. at 14640 Ferns Corner Road in Monmouth.
The event is coordinated by the Dallas, Monmouth and Independence chapters of Beta Sigma Phi. About 50 families have provided donations, and funds raised from the sale will benefit the Ella Curran Food Bank and Dallas Food Bank.
For more information: Rita, 503-623-4000; Karen, 503-623-3062.
---
Rummage sale
set March 27-28
The annual rummage sale hosted by the Dallas Naomi Chapter No. 22 Order of Eastern Star will be from 9 a.m. to 3 p.m. on Friday and Saturday, March 27-28.
The sale will be at the Masonic Hall, 140 SW Clay St., in Dallas. Funds raised will go to the chapter's philanthropic projects.
For more information: 503-623-2287.
---
Library book sale
is this weekend
Friends of the Independence Public Library will hold a used book sale Friday, March 27, and Saturday, March 28, from 10 a.m. to 4 p.m. at the old library building, 311 Monmouth Ave.
A wide selection of books, videos, DVDs and more will be available. Cost is $1 for hardbacks, 50 cents for paperbacks and children's books are free. Proceeds will go toward an automatic door for the library.
For more information: Betty Plude, 503-838-4039; Independence Public Library, 503-838-1181.
---
Spring doll show
on tap Saturday
The Wagon Wheel Doller's Doll Club will host its 27th annual doll show and sale Saturday, March 28, at the Polk County Fairgrounds, 520 S. Pacific Highway (99W) in Rickreall.
The one-day event will include 125 vendor tables featuring antique, porcelain, artist and collectible dolls of every type, bears, miniatures, toys and related items.
Admission is $3 from 10 a.m. to 4 p.m., or $6 for presale hours from 9 to 10 a.m. Children 5 and under are free. Proceeds benefit local community organizations.
For more information: Arleta, 503-581-1206.
---
Post office plans
'passport day'
Dallas Post Office is among those participating in a nationwide passport application acceptance day on Saturday, March 28, from 10:30 a.m. to 2:30 p.m.
The post office will accept passport applications from anyone not able to come to the post office during the week.
New regulations go into effect June 1 that require anyone traveling outside of the United States to have either a passport book or card.
For an appointment or more information: 503-623-3835.
---
Event highlights
wines and more
An afternoon of wines, artisan cheeses, chocolate confections and fresh bakery items will highlight the Winemakers Faire Saturday, March 28, from 1 to 5 p.m. at Spirit Mountain Casino in Grand Ronde.
The event, free and open to the public, will showcase some of the region's leading wineries and vineyards.
For more information: www.spiritmountain.com.
---
Alternative health
class set at WOU
Western Oregon University's Division of Extended Programs is offering an Energy Psychology and Emotional Freedom Techniques class Saturday, March 28, from 2 to 4 p.m.
The hands-on class offers theory, demonstration and practice based on new discoveries regarding the connection between a body's subtle energies, emotions and health.
The class takes place in Unit B of the WOU University Park Conference Center. Cost is $25.
To register or for more information: 503-838-8483.
---
3-D movie night
to benefit 'Relay'
A classic 3-D film night for all ages will be held to raise funds for The Walking with Christ Relay For Life team Saturday, March 28, at 7 p.m. at Dallas Evangelical Church, 783 SW Church St.
The evening will include two classic 3 Stooges shorts, "Shrek 3-D" and the feature "Creature From the Black Lagoon."
Donations will be accepted at the door. Proceeds benefit the team, which is participating in the American Cancer Society Relay For Life of Polk County May 15-16 at Riverview Park in Independence.
For more information: Shawn, 503-831-4771.
---
Church to host
Sunday concert
Garden of Grace will perform a concert Sunday, March 29, at 5 p.m. at Heart To Heart Church, 191 N. Monmouth St. in Monmouth.
All are welcome to the evening of music, finger foods and snacks.
For more information: Annita, 503-838-4742; Lisa, 503-837-0541.
---
New soup kitchen
plans first meal
The James2 Community Kitchen will begin serving the local area by hosting its first meal on Tuesday, March 31, from 4:30 to 6:30 p.m. at Dallas United Methodist Church, 565 SE LaCreole Drive.
The nonprofit organization strives to feed, clothe, educate and give hope to those who seek help.
Volunteers are needed and financial contributions are welcome.
For more information: Donna Davis, 503-508-8421.
---
WOU set to host
concert Tuesday
The Portland Baroque Orchestra will perform "The Magical Music of Venice" Tuesday, March 31, at 7:30 p.m. at Rice Auditorium on the Western Oregon University campus.
Tickets for the event, part of the 2008-09 Edgar H. Smith Fine Arts Series, are $25 for adults and $10 for students.
For more information: 503-838-8333; http://www.wou.edu/sfa.
---
LVCS fundraiser
around corner
Luckiamute Valley Charter School will celebrate 156 years of education by hosting its annual fundraising dinner and auction on Friday, April 3, beginning at 5:30 p.m.
The event, open to the public, takes place at the Polk County Fairgrounds, 520 S. Pacific Highway (99W), Rickreall. The dinner includes lasagna, salad, bread, dessert and coffee. There will be silent and live auctions, and kids room with movies and arts and crafts available.
A table for eight is $25 if reserved by Wednesday, April 1. Individual admission is $5 at the door. Donations for the auction are still being accepted.
For more information: Kristi Reed, 503-871-9380; e-mail to kristireed3@yahoo.com.
---
County fair seeks
superintendents
The Polk County Fair is seeking individuals interested in volunteering to serve as superintendents or volunteers who can help superintendents.
Superintendent areas include: grains, honey and forestry, fruits, nuts and vegetable crops, community booths, floriculture, horticulture, foods, fine arts, photography, poetry, crafts, textiles, dogs, horses, beef, dairy cattle, goats, sheep, swine, llama, cavies, poultry, rabbits, and cats and pets.
Superintendents help set up areas before the fair, supervise their areas during the fair, and help take down after the fair. Each area requires a different level of set up and supervision.
For more information: 503-623-3048.
---
Hospital auxiliary
is selling candy
See's Candy is available at West Valley Hospital in Dallas to help fund the hospital auxiliary's scholarship fund benefiting a 2009 graduating Polk County senior.
Candy, at $5 per box, will be sold until it is gone and is available from 10 a.m. to 2 p.m. Mondays, Wednesdays and Fridays in the hospital lobby, 525 SW Washington St.
For more information: Kay Andrus, 503-831-1141.
---
Humane Society
seeks nominees
Nominations are being accepted for Willamette Humane Society's annual Humaneitarian Award.
The award recognizes an individual or group who exemplifies Willamette Humane Society's mission of promoting the welfare of animals through leadership, education and action.
Deadline for nominations is Friday, April 17. The winner will be announced at the WHS's spring benefit on Friday, May 8.
Applications are available online at www.willamettehumane.org or by calling 503-585-5900, ext. 660.
---
DHS Class of '59
plans gathering
Reservation deadline is Friday, May 1, for all 50th reunion activities of the Dallas High School Class of 1959.
A variety of events ranging from a wine tasting to a dinner are scheduled Aug. 14-16.
For more information: Margaret Link, 503-623-9338; or send an e-mail to MLink007@msn.com.