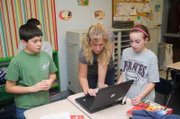 PERRYDALE -- Sixth-graders at Perrydale School are on the cutting edge.
Their teacher, Brooke Spencer, is using what she is learning while earning her Master's in Educational Technology in her classroom.
"It's amazing what technology can do as a tool in the classroom," Spencer said. "It has changed my classroom."
Spencer has been teaching at Perrydale for five years, but has really focused on integrating technology this year as she is studying.
Last week, her students were learning math in a combination of teamwork and technology. Groups of two or three students huddled around laptop computers designing brightly colored living rooms in a sketch program. The goal was to convert feet to inches and determine the correct scale for the room and its furniture.
Cameron Vincent, one of the students in Spencer's classroom, said his brother-in-law was using the same software in his construction work. He and student Emily Johnston were focused on sizing the entertainment center in the digital room.
They said they use the laptops and Web programs nearly every day in class for finding definitions, work on their spelling sentences and word processing. Homework is done online as well. Johnston said they log in to the school Web site at home to retrieve their homework, so they never have to worry about forgetting it.
Spencer said she is teaching her students tools that can be used outside of school. She inherited the classroom laptops, but nearly all of the programs she is using in her class are free online.
"Perrydale opens up so many doors for technology because the administration is so forward thinking," Spencer said.
So far this year, Spencer has taught her students how to use educational tools from Google, as well as photo, animation, comic and voice recording programs. The classes even work on their own wikis, a simple Web page, and blogs.
"I think we're lucky," Johnston said. "Usually a lot of schools can't afford computers for classes."
Spencer is set to finish her degree from Pepperdine University in June. She will then continue teaching at Perrydale, but will be able to speak at conferences on educational technology, she said.