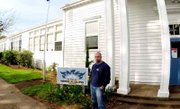 DALLAS -- With the possibility of Morrison Campus Alternative School closing its doors next year, staff and students are trying to prepare for what would be a tough transition back to Dallas High School.
Morrison was created in 1998 by the Dallas School Board in an effort to reduce the district's dropout rate, Principal Jamie Richardson said.
It is a voluntary program in which counselors at Dallas High recommend struggling students apply. The school has four classrooms and teaches 11th and 12th grades, ages 16 to 20.
Richardson began teaching health and P.E. in 2000 at Morrison and was later hired as principal. However, Richardson said he believed the stereotype that alternative schools were for bad kids. That opinion quickly changed, he said.
"They (are) the kids that just need some extra help and some structure," he said.
The program focuses on attendance, performance, respect and cooperation. Enrollment has held steady through the years at between 50 to 80 students. The graduation rate is at 80 percent, Richardson said.
It is run like an elementary school in that the students have the same teacher for most subjects. Class sizes remain small and teachers transform into mentors for the students.
Lindsy Perry began student teaching at Morrison and taught health, P.E. and leadership full time after she graduated from college in 2004.
She said she stayed at the alternative school because she was impressed by the schoolwide respect, comfortable atmosphere and close relationships.
"We're kind of in their faces making them come talk to us and being there for them," Perry said.
Students also communicate problems with their teachers via journal entries, she said.
Stacy Bingham, a senior, said her teachers are some of the best people she has ever known. She said they often laugh and joke and are very caring, which makes Morrison a great place for her to learn.
Bingham was expelled her freshman year from Dallas High and returned her sophomore year. However, attending classes and the large-school environment was rough.
"I heard great things about (Morrison) and I wanted a positive change," Bingham said.
The new atmosphere allowed her to get the help she needed and she's set to graduate on time. She said she would be a lot farther behind in credits if she had remained at Dallas High.
Another component of the Morrison experience that Bingham loves is the Future Leaders class and the school's involvement in the community.
Students helped plant trees on Arbor Day, packed backpacks for homeless children, made cards for patients at Doernbecher Children's Hospital, and organized a Relay For Life team.
Richardson said students have helped clean the Delbert Hunter Arboretum, planned and hosted the annual Halloween event with the Dallas Area Chamber of Commerce, held Red Cross blood drives, adopted needy families during the holidays, and held penny drives for the Leukemia and Lymphoma Society.
"There's always something going on where kids are involved in service," Richardson said. "(In doing so), kids start to take ownership and will stand up for their hard work (in their community)."
Despite the progress the school has made in students' lives, Superintendent Christy Perry said last week the school may be closed to deal with a possible $4 million budget shortfall.
"If we close the school it compromises our core mission (as educators)," Superintendent Perry said. "It's huge for these kids. I just can't even imagine it (closing)."
Christy Perry said the list of proposed cuts released in late April was not prioritized. She could not say if the school would be first or last to go. She said reductions could be made, but those reductions may come to a point where the school may just need to close.
If that happens, the Morrison students would have to return to Dallas High School.
Office Manager Kelly McKinley said this year's seniors at Morrison came to the school with eight credits their junior year and doubled their credits to graduate on time. The 10th graders at Dallas High who have applied to Morrison average 6.2 credits earned and would need to earn nearly 20 more credits in two years to graduate on time at Dallas.
"These are not kids who will stay in the Dallas school system if Morrison closes," McKinley said. "Because they are so credit deficient, they will either drop out or seek credit recovery elsewhere and the district will lose funding for them."
Richardson announced the potential closure to his school April 28.
"They were shocked, but they didn't put the blame on anyone," he said.
Richardson said he is trying to motivate his students to stay in school. Richardson and Keith Ussery, the principal at Dallas High, are finding ways to make the transition easier for Morrison students if it becomes necessary.
Ussery said his school cannot provide the same kind of program as Morrison, but he is finding ways to optimize his resources and modify intervention strategies. Ussery said he hopes to create a hybrid program to keep Morrison students engaged in the classroom.
Lindsy Perry said Morrison students are becoming activists and want to write letters and speak in front of legislators about their progress and hopes that someone will listen.
Bingham said if Morrison closes some of the juniors will likely drop out. While younger students and staff hold their breath for financial forecasts, Bingham is lucky. She is graduating within a month and is headed to Chemeketa Community College next year to continue investing in her future.