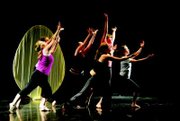 Spring Dance Concert
What:
Western Oregon University Spring Dance Concert.
When:
Thursday, May 7; Friday, May 8; Saturday, May 9. All performances at 7:30 p.m.
Where:
Rice Auditorium.
Tickets:
$12, general admission; $10, seniors; $7, students.
Information:
WOU Box Office, 503-838-8462.
MONMOUTH -- After a full day of classes, jobs and homework, Western Oregon University dancers step into the studio to practice and let all the stresses fall away.
Junior Allie Boyden, a dance major, is rehearsing four or more hours in the dance studio each week to prepare for the Spring Dance Concert May 7-9. Some of her fellow dancers are rehearsing up to eight hours each week depending on how many dance pieces they are in.
Today, Boyden and a handful of dancers are practicing a piece called "Breaking Through" by Professor Deborah Jones. Auditions for all dances began in January, when Jones selected her chosen few for her modern dance.
"It has a clear intention -- it's not just a dance for dance sake," Jones said.
Jones said "Breaking Through" was inspired by the closing of her mother's life and how everyone goes through transitions breaking through to the other side. People can apply it to their own lives, she said.
The dance concert will feature six student pieces, three faculty pieces and one guest piece.
Although it is an annual concert, Jones said each group of dancers is different and bring their creativity to the choreographed piece. She can often be found watching the performance with tears in her eyes in wonder of her students' work.
The dance program at Western is special because classes are small -- no student is a number, Jones said.
"It's personal," Jones said. "It's small enough that we all know our students."
Boyden said she chose to study dance at WOU rather than at the University of Oregon for that reason.
"I just really loved that it was smaller here," Boyden said.
Jones has been teaching for nearly 18 years and watches her student choreographers go through frustration and tears. However, she said she has never seen a student be unsuccessful.
The show will feature beginning to advanced dancers in all styles of dance such as African, tap, modern and Latin.
For more information, contact 503-838-8462.