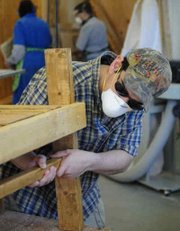 POLK COUNTY -- Helen's goal whenever she heads over to the Solstice Beauty Studio in downtown Independence is a simple one: make the place spotless.
Armed with a feather duster, sponge and mop, Helen gives the shop a thorough cleaning one day a week.
"She does a better job than I would do," said Solstice owner Trisha Moore. "Helen is meticulous."
Helen is a client of Monmouth-based Partnerships in Community Living (PCL), a nonprofit organization that aids individuals with developmental disabilities.
Helen has been doing similar weekly cleaning visits to other businesses and homes in Monmouth and Independence for the past couple of months. The 63-year-old said she likes the money, giggling as she describes how much of her earnings go toward desserts to feed sweet tooth.
Mostly, however, she just enjoys keeping busy.
"I love doing work," Helen said. "I was born to work."
It's that sort of empowerment that PCL has strived for in its clients since the organization restructured its employment services division last fall.
PCL is now operating a sort of "temporary agency program," placing workers with any area businesses who need them.
Gwen Whelton, PCL spokeswoman, said it's a win-win situation, with clients getting meaningful work and "a business getting somebody to do a service for them.
"They can feel good about giving an opportunity to somebody who might not have otherwise been able to go out and work," she said.
There are about six businesses and government agencies in Polk County participating in the PCL program, ranging from landscaping companies to Dallas City Hall.
The initiative was launched last November, after PCL's board of directors called for a way to more effectively "enhance the lives of the people we serve," said Gary Zenzen, PCL business development director. Until then, clients who had jobs typically worked at PCL's own businesses, he said.
The poor economy has actually helped the new program gain some footing by "heightening people's thinking creatively about how to run a business," Zenzen said.
A company may have modest 5- to 10-hour-a-week personnel needs -- such as answering phones or delivering mail -- that wouldn't require a regular part-time employee, but are perfectly manageable for PCL clients, Zenzen said.
"It's a social benefit and a cost benefit for a business," Zenzen said.
PCL staff matches clients with companies based on ability and the job requirement, and accompany most clients on assignments. PCL bills customers a fee, and pays clients minimum wage.
Moore said she participated in the program after learning of it from PCL staffers who frequent her shop. Helen's weekly visit spares her from having to clean her shop on weekends, freeing up time for her two kids, Moore said.
"Helen cleans great ... and she takes a lot of pride in what she does," Moore said. "We could all learn from her."
Another restructure component has occurred within PCL's own businesses, with staff helping clients strengthen their "soft skills," such as interaction with co-workers.
Kevin, 23, has worked in PCL's Dallas woodshop for the past year. He and other employees there have graduated from small handcrafts to building Adirondack chairs, tables and other furniture.
"I've learned a lot," Kevin said as he fastened a support beam between the legs of a bench. "I'm thinking about opening up my own business myself some day."
Lee Bunnell, woodshop manager, said the clients' woodworking skills have grown by leaps and bounds.
But "the soft skills were more important," he said, "learning how to work with others so they can have a normal life in the community."
For more information about PCL's employment services: www.pclpartnership.org or 503-838-2403.