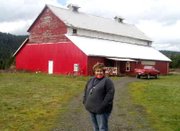 KINGS VALLEY -- How do you jump-start a local community in the face of global economic factors beyond its control?
You start by training its residents to be leaders, according to experts from Rural Development Initiatives (RDI).
RDI is no newcomer to rural belt-tightening. The non-profit organization has been training rural leaders to turn lemons into lemonade since it was founded in 1992. The leadership workshops are supported in part by the Ford Family Foundation, an Oregon nonprofit.
Case in point: the 200-household community of Kings Valley -- 20 miles south of Dallas and 20 miles northwest of Corvallis. Like other Polk and Benton counties communities these days, Kings Valley's businesses, and the groups that hold it together, face the challenges of rising gas prices, job losses, declining business, changes in population and land-use, and the threat of further decline and isolation in the countryside.
But with vision and leadership, rural communities can thrive, according to Beth Gilden and Jordana Leeb, two RDI staff members who recently directed the Kings Valley training. The two-day workshop was a short version of training that aims at inspiring and informing rural leaders, something RDI staff have done all over the region recently. Fifteen local people joined the training -- school administrators from the Kings Valley Charter School, parent volunteers and coaches, volunteer firefighters, watershed council representatives, longtime residents and landowners, community hall board members and farmers market participants. All were eager to learn how to improve their community.
BUILDING ON KINGS VALLEY'S ASSETS
Kings Valley was established in 1854, when the Nahum King family and their in-laws put down roots along the upper reaches of the picturesque Luckiamute River and its tributaries.
Although it had a post office of its own until 1974, the community today is unincorporated and in some books listed as "a ghost town." But its residents are determined to keep the rural community alive.
Activities revolve around the Kings Valley Store, the historic church building which is now a community hall, the growing charter school, the fire station, the cemetery district, and seasonally events like the farmers market, hunting and fishing in the area, and the giant Shrewsbury Renaissance Faire.
Where once industry was limited to the King's grist mill and the small farms and dairies nestled in the narrow valleys and sloping forested foothills of the region, today larger timber companies own much of the land nearby, including Forest Capital (the former Boise Cascade). Log trucks and company pick-ups still haul down Kings Valley Highway, although two local mills have closed long ago. Christmas tree operations including Holiday and Sunrise Tree Farms are seasonal employers.
The store, established by King relatives generations ago and owned by Norm Arnold for the past 30 years, struggles on despite its recent loss of a gas station. The store has been rebuilt at least three times, Arnold said, most recently by his family following a fire in 1989 that destroyed the 1918 structure. Arnold's wife, Terri, is related to the Kings through her father. The Nahum Kings had 17 children, Arnold points out.
"If all of them stuck around and shopped here, I'd have been a rich man," he laughed.
Arnold lives next door to the store and has watched the community change. What was once a thriving lumber mill is now a landing for Christmas tree processing in the winter. Where once loggers and truckers filled his aisles, today the wood industry folks are being replaced by commuters.
Residents are his bread and butter in the winter. These folks linger in the store, sipping coffee and commenting on politics, local gossip and the weather. In the summer and fall, tourists, hunters and anglers stop by for supplies, linger at the bulletin board, and then move on. Christmas tree workers drop in for sandwiches.
Residents themselves have changed, Arnold noted. More outsiders have moved in, bringing with them expectations from distant cities and states.
The community was at a crossroads about 10 years ago, according to Carol Alley and Pat Malone, the current and past presidents of the Kings Valley Area Association. The group's focus has been to care for the 1892 church building that now serves as both a community center and a high school. But the group has also been at the fore of community planning.
"We asked ourselves, 'what do we want this area to look like in 10, 20 years,' and it got things moving," said Malone, who owns Sunrise Tree Farms with his wife, Betty. "We don't have many things here, many resources. A community center is important."
The community was in danger of losing its public school and its crumbling community center, which prompted the formation of KiVAA and the group's community planning. Today, the rural school is once again a vital member of the community and the community center has a new kitchen.
Across the road, Mark Hazelton, superintendent of the Kings Valley Charter School, lists the advantages of having a school in the community: The school employs 20 people earning $60,000 a month, and most of those live in Kings Valley. Two-thirds of the students come from surrounding communities, but their parents come to school activities and the students join local 4-H clubs and sports programs, inserting themselves into the area's life. Students are required to volunteer as part of their school work -- they've helped out the Luckiamute Watershed Council, the Corvallis Stone Soup Kitchen, the nearby Beazell Park and the Institute of Applied Ecology, to name a few.
"We like to be good partners," Hazelton said.
In addition, the school buys local vegetables and farm products for its 70 to 80 lunches and 35 breakfasts served each day of school. Recently, the school has upgraded its kitchen to provide local growers with a place to process berries for jam and other foods sold in local and regional stores. Hazelton also hopes to use the school grounds and staff to provide sports camps, joint marketing ventures, adult classes and club meetings for the community.
A measure of its success, the charter school is expanding its high school grades and planning to build additional classrooms -- possibly as early as this summer.
Many of the school's teachers and staff are primed for community leadership. Glenda Bush and her sister, Anna Bowman, both work at the school but have dreams connected to a giant red barn that sits on family property about a mile down the road from the school.
The sisters would like to put a coffee and gift shop in the ancient barn, providing a place to sell local art while visitors sip on various brews.
"This is the dream, and it's going to happen," said Bush. She was inspired to move ahead with her idea following the RDI's leadership workshop.
In a small section of the big red barn, Bush's brother-in-law, Dennis Bowman, owner of Rustic Log Furniture, shaves bits of wood from a tabletop by hand with a plane and brushes the sawdust from his hair. Bowman's custom furniture business for the last six years has provided a base for his family in Kings Valley. When he's not carving out log furniture, he's searching the area for the pine and fir he uses to built it.
More Kings Valley-based businesses will help create a strong community, Malone and Alley say.
"I like being a part of a real community, not just a bedroom community," Malone said. "We wanted to make this a place where people can stay and live."
At the recent weekend workshop, Kings Valley residents heard from experts how to create a successful rural community, and to lead in a way that will help move community dreams forward. More information about RDI is at: http://www.rdiinc.org/