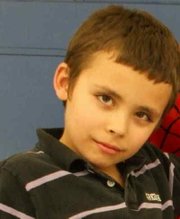 INDEPENDENCE -- Mary Troub said she's occasionally driven past Independence Elementary School during the last seven months, but until recently, hadn't been able to muster the courage to stop and walk inside.
Her son, Michael Runyon, had been a student here since kindergarten. Last November, two months into the third-grade, Runyon and his 20-year-old brother, Alvin Troub, drowned near the shore of Riverview Park while on one of their regular fishing trips. Runyon was 8.
"It's hard to see others (children) there when my son should have been there, too," Mary Troub said.
"My kids weren't part of my life, they were my life."
Grief still overwhelms Mary Troub and the rest of her family sometimes more than they can bear, she said. But last week, several of them found the strength to visit Michael's old school to celebrate his memory.
IES staff members have created a mural that incorporates a photograph of Michael, taken during a school field trip last year. As usual, there's a smile on his face.
The artwork depicts two circus elephants forming a heart with their trunks and advertises the "HEART skills" philosophy IES teachers try to impress upon their students.
The 12-foot-by-9-foot display adorns the first-floor hallway of the school. More than 100 students and red-eyed teachers and building employees crowded around on May 12, as Mary Troub and mural designer, Estevan Rincon, unveiled the art for the first time.
HEART stands for honor, empathy, accountability, respect and teamwork. During the presentation, Principal Steve Tillery said: "Everytime we exhibit these skills, we can remember somebody, Michael, who did these on a daily basis."
Tillery said the school had been considering a project related to the slogan for a while, as well as a memorial to Runyon. Ultimately, the two ideas were combined, he said.
Librarian Laurie Dentel came up with the imagery this past spring for the circus mural, while Rincon, an IES tutor and artist, committed it to paper.
Rincon said this was his first piece of public art, and that it took about three months to design.
Corvallis-based Element Graphics printed his work on what's essentially a massive vinyl decal -- at a reduced cost to the school -- and helped install it.
"It made it more inspiring and meaningful to actually put something up in honor of Michael," Rincon said. "He was a great kid."
Archie Vibbard, Alvin and Michael's grandfather, had dropped the boys off at the park that fateful day. Life has been "hell" since then, he said.
"I go to the river a lot to try and find answers," he said. "But I can't find them."
He and several relatives visited the school to view the mural and take photographs of it. Vibbard said: "It's the best thing to happen to us in months."
Mary Troub agreed. She had been notified about the display a few weeks prior and wasn't quite sure how it would turn out. The final product was "wonderful," she said.
"It fits Michael so perfectly well," she said.
It was difficult being back inside IES, Mary Troub said. She wept softly as she watched students wrap up their regular "team time" morning assembly before the unveiling.
Still, she has family members who haven't seen the mural yet, so she plans on returning.
"I would like to just come in and peek at the wall every once in a while," she said.