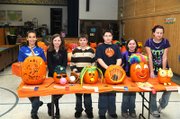 Gentle House rose workday scheduled
The Friends of Gentle House is hosting a hands-on rose garden workday Thursday, Nov. 5, from 10 a.m. to noon at the historic Monmouth home at 855 N. Monmouth Ave.
A variety of roses will be discussed. Refreshments and informational handouts will be provided.
Participants are asked to bring their own work gloves, hand pruners and containers for cuttings. The event is free and open to the public.
For more information: Sarah, 503-399-9436.
School will honor veterans on Friday
Faith Christian School will host its annual tribute to area veterans during a program scheduled Friday, Nov. 6, at 10 a.m. at the school, 2290 E. Ellendale Ave., Dallas.
The school is inviting local veterans and their spouses to the program to honor them. A complimentary lunch will be served.
Veterans who wish to participate are asked to RSVP the school office by calling 503-623-6632.
PCL casino night fundraiser planned
Monmouth-based Partnership in Community Living presents its 15th annual casino night fundraiser Friday, Nov. 6, at the Keizer Renaissance Inn, 5188 Wittenberg Lane, Keizer.
The Mardi Gras-themed event will feature a jazz band and prizes. It also includes hors d'oeuvres, a festive atmosphere, and casino-style gaming including Texas Hold'em and let it ride poker, craps, roulette and black jack.
A $5 admission includes $25 of playing scrip. Proceeds from the event help improve the lives of individuals with developmental disabilities.
For tickets and more information: Jessica, 503-318-0493.
Soprano to perform at Smith Fine Arts
Renowned soprano Rebecca Fromherz of Dallas will perform for three nights this weekend at Western Oregon University's Smith Fine Arts Series.
The intimate performances are scheduled Friday, Nov. 6, Saturday, Nov. 7, and Sunday, Nov. 8, at 7:30 p.m. in the newly remodeled Smith Recital Hall on the WOU campus in Monmouth. Admission is $18; $10 for students.
Fromherz will pay tribute to the rich musical heritage of the city of Vienna and the legacy of Lieder.
For tickets or more information: 503-838-8147; www.wou.edu/president/advancement/smith.
Library set to host adult bingo activity
Independence Public Library will host a "book bingo for grownups" activity Saturday, Nov. 7, at 1 p.m.
Adults are welcome to visit the library at 175 Monmouth St. and play bingo for books and other prizes. Light refreshments will be served.
For more information: 503-838-1811.
Growing pumpkins topic of seminar
Old Mill Feed & Garden is hosting a seminar on growing giant pumpkins Saturday, Nov. 7, at 2 p.m. at 1313 Main St. in Dallas.
Guest speakers include Steve Deletas, a former giant pumpkin world record holder; Ron Wilson, a soil scientist and former president of the Pacific Giant Vegetable Growers; and local resident Tom Duffy, who will share details on how to get started growing giant pumpkins.
The seminar is free, but seating is limited and preregistration is required. Refreshments will be served.
For more information: 503-831-1222; www.oldmillfeed.com.
Sunday breakfast set at Buell Grange
The Buell Grange of Polk County is hosting a community breakfast Sunday, Nov. 8, from 8 a.m. to 12:30 p.m.
Cost for breakfast is $5; coffee is free. Proceeds benefit the Buell Grange.
The Buell Grange Hall is located northwest of Dallas off Highway 22 at 5970 Mill Creek Road, across from the fire station.
For more information: 503-623-8462 or 503-843-4703.
Gun club to host annual turkey shoot
Independence Elks Gun Club will host its annual "turkey shoot" Sunday, Nov. 8, starting at 9 a.m. at the gun club located on Hoffman Road.
There will be scatter boards, raffles and food and beverages available for purchase.
The event is open to the public and shooters ranging from beginners to experts are welcome to participate.
For more information: Paula Riha, 503-838-1950; Norman Scott, 541-926-4668.
Nutrition overview for seniors slated
A one-hour overview of basic nutrition as it pertains to older adults will be presented Monday, Nov. 9, at the Monmouth Senior Center, 180 Warren St. S.
The 12:30 to 1:30 p.m. lecture by Western Oregon University professor Amy Hammermeister will cover portion control, nutrient density and other nutritional facts. Attendees will also learn about how to "be a healthier version of you."
Questions the public would like to have answered may be written down and brought to the senior center by Friday, Nov. 6. Questions will also be taken during the presentation.
For more information: 503-838-5678.
Grief support group meets on Mondays
Willamette Valley Hospice will offer a free, six-week grief support group on Mondays beginning Nov. 9 at its office at 1015 3rd St. NW, West Salem.
The support group will meet from 6 to 7:30 p.m. each Monday through Dec. 14. Professional counselors will facilitate the meetings. The public is welcome. There is no cost, but preregistration is required.
To register or for more information: Willamette Valley Hospice, 503-588-3600; www.wvh.org.
Birthday gathering to honor Marines
In celebration of the U.S. Marines' 234th year, an informal birthday cake cutting ceremony will be held Tuesday, Nov. 10, at Tater's Cafe in Dallas.
All Marines, past, present and future, their families and friends are welcome to the 6 p.m. event at 683 SE Jefferson St., Dallas.
For more information: Bob Herndon, 503-623-5395.
Veterans Day dance planned in Dallas
The Majestic Ballroom and Dallas ICAN will host a dance celebrating local veterans, their families and anyone who loves to dance on Wednesday, Nov. 11.
The all-ages dance is scheduled from 7 to 9 p.m. at the Majestic, 976 Main St., Dallas. Music will include a mix of swing, tango, cha-cha, rumba and nightclub stylings.
Admission is free for veterans and military personnel, and $5 for all others. Refreshments will be available.
For more information: 503-623-5055.
Cereal donations accepted by bank
The Monmouth branch of Washington Federal Savings is collecting boxed cereal for the Ella Curran Community Food Bank.
Donations will be accepted throughout the month of November at the bank office, 523 Main St. E., Monmouth.
For more information: Rebecca Masingale, 503-838-3744.
Capital Manor sets driver safety class
A two-day AARP Driver Safety Program and Mobility Options class will be held on two consecutive days this month at Capital Manor Retirement Community in West Salem.
The class will be offered on Thursday, Nov. 12, and Friday, Nov. 13, from 8 a.m. to noon at Capital Manor, 1955 Salem-Dallas Highway NW, West Salem. Preregistration is required.
Classes are designed to promote personal awareness, sharpen driving skills, provide an update of changes in driving laws, and include tips and issues related to mature drivers and physical challenges.
For more information: 503-362-4101.