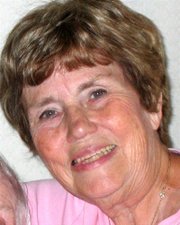 Next Wednesday is Veterans Day. It is a holiday that was originally called Armistice Day, to honor the veterans of World War I. Some called it the war to end all wars.
Fast forward to present time, where our service men and women are stationed all over the world. Many of our sons and daughters, grandchildren, fathers and mothers are serving in the often hostile faraway deserts and mountains of Iraq and Afghanistan, hoping to bring peace and democracy.
We can honor our citizen soldiers and career military men and women by saying "thanks for your service" to all the veterans we know -- family, friends and neighbors who have served in World War II, Korea, Vietnam and Desert Storm.
We can welcome back to our communities and our workplaces those who have served in Iraq and Afghanistan. We all need to give our young men and women the time to readjust to the difference between being on the battlelines and driving to the supermarket or taking the kids to school.
Many of us remember all too well how poorly we treated our returning vets from Vietnam. We've learned a lot since then, and have resolved to do whatever positive things we can do to support those who have served with honor to bring freedom to the farthest corners of the world.
--
A great opportunity to get together to honor our troops serving in Iraq and Afghanistan is to participate in Operation Santa 2009 -- a gift-wrapping party Tuesday, Nov. 10, beginning at 6 p.m. in the Oregon Room, which is located in the Werner Center at Western Oregon University.
The WOU Student Republicans and the Marine Corps Family Foundation invite all of MI Town to wrap gifts, sign cards and write letters, fill stockings, pack boxes and decorate holiday posters -- all of which will be sent in time for Christmas.
Especially needed are men's white crew socks, snack bars, hand warmers, hot chocolate mix, tooth paste and tooth brushes, beef jerky, and candy, cookies and nuts. All donations are tax deductible and can be dropped off in advance at Monmouth Fitness Center or the WOU Werner Center.
A special thanks to MI Town's restaurants who participated in the Dining for Troops fundraiser on Sept. 11: Andy's Caf', Arena Sports Bar, Big Town Hero, Burgerville USA, Chase Bar & Grill, J's 99 Restaurant and Los Dos Amigos. All funds received will support Operation Santa 2009.
--
Don't forget the community breakfast at the Monmouth Senior Center on Saturday, Nov. 7, from 8:30 to 10:30 a.m. The price -- $5 -- is right and the servings are generous.
--
Also on Saturday, Nov. 7, our WOU Wolves football team meets Central Washington University at McArthur Field at 1 p.m. in the last home game of the year. See you there.