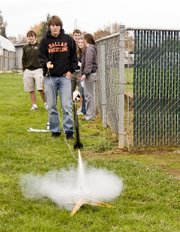 DALLAS -- What better way to illustrate velocity than to use flying objects?
A Dallas High School physics class used rockets as the flying objects Oct. 28 for a project that teacher Lee Jones said explored the principles taught to students.
Sawyer Finegan said the object was to build a better rocket -- one that could fly higher and straighter. Students were divided into pairs to design the rockets, which were not much more than a foot tall.
Even if not all of the rockets were high-flyers, each launch gave classmates practice at measuring the height of a moving object.
Standing a safe distance away, students tried to measure the angles of the rockets at peak flight in relationship to the ground. They would later use the angles to calculate how high each flew.
One after the other, the rockets were ignited and made a fast ascent, powered by an engine that looked like a small firecracker. A trail of smoke followed the rockets until the engine exhausted. Then, poof! The nose cone separated -- or was supposed to separate -- and each piece floated back down to the ground. Wayward rockets sent students tramping through fields and bushes to find them.
Sawyer's rocket -- the last launch of the class -- was descending fast enough to stick itself in the ground a few feet from the launch point.
After pulling the rocket out of the ground, the senior said firing the rockets was a fun way to learn the principles of the study unit.
"It was a really cool project," he said. "I'm glad it was in the curriculum and we were allowed to do it."
More like this story