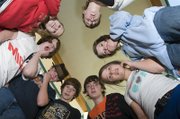 BREAKOUT BOX
"Murder
Before
Dessert"
When:
Friday, Nov. 6, beginning at 7 p.m.
Where:
LaCreole Middle School, 701 SE LaCreole Drive, Dallas.
Admission:
Adults, $5; students, $3 (includes dessert).
For more information:
503-623-6662.
DALLAS -- LaCreole Middle School has just the cure for the post-Halloween blues: a murder mystery.
And yes, there will be blood.
"It is a murder," said language arts teacher Juli Ann Lindemann, who is advising the cast.
A fundraiser for the annual eighth-grade trip to Washington, D.C. and New York, performances begin at 7 p.m. and continue through 9 p.m. on Friday, Nov. 6, at the school, 701 SE LaCreole Drive, Dallas.
Lindemann said the play will be staged several times throughout the evening. It is a bit like a haunted house - the performance will be different each time.
The mystery itself is only about a half-hour long. Much of the time is spent with the actors mingling with the audience.
Cast members improvise the answers to questions in character to help the audience track down the killer or killers.
Two characters will die during the show, set in a school on the night of a reunion party at St. Cakes School. One-half of the unlucky pair is Grant Browning, who just isn't a one-woman man, played by eighth-grader Toni Workman. Headmistress of St. Cakes, Rayanne Ashmole, played by eighth-grader Kaylee Hirschi, will also meet her end.
Browning receives a note inviting him to a secret meeting before he is killed. The audience and characters are left to wonder, who sent the note?
Eighth-grader Michael Osborn, who has the enviable job of playing the inspector, said the performers inject humor into the thriller. For instance, the chaos after Grant's murder is discovered "is a lot of laughs," he said.
With each performance the players and characters will remain the same, but the killer and motive will change.
Audience members are given a packet of clues to help them along the way, but the plot has enough twists and entanglements to keep everyone on their toes.
"It's like a soap opera mystery," said eighth-grade performer Hannah Fawcett.