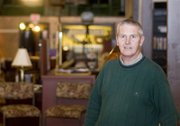 DALLAS -- The newly opened store on Main Street downtown isn't an antique store. It isn't a flea market, either.
Owners Mike and Laurie Berkes would rather their store be considered "something" in between.
Some Things, at 857 Main St., offers shoppers a selection of merchandise that is vintage, new or somewhere in the middle, Mike Berkes said.
"We have high-end glasswear and things for $2," he said.
The store features 12 independent vendors stocking booths along the walls with their merchandise, while the Berkes sell furniture stationed in the middle of the store.
Berkes said the store is designed to offer something other than the typical antique mall experience. He said antique hunting is generally geared more toward women. He wants to change that -- or at least make the male halves of couples who come in comfortable.
Military memorabilia and a corner of the store called the "Tool Crib" cater to more masculine interests, with old tools and even antique claw-foot bathtub feet.
If that doesn't prove enough, two cozy looking chairs and a coffee table serve as the "Spouse Waiting Lounge."
Customers are offered coffee while they browse and 1940s-era music sets a fitting mood.
Vendors say that so far, the location has been a success for them.
Merry Brateng of Dallas said while the vendors and the Berkes work hard to keep inventory fresh, customers are made to feel comfortable, not pressured about purchases.
The Berkes, who previously sold merchandise at Second St. Antiques in Independence, hope the concept of Some Things will put the store on antique hunters' weekend shopping maps.
"Over time, I think we can get on that circuit," Mike Berkes said.
If that happens, Berkes said Some Things will become a destination.
Dori Demarbieax of Independence, who sells vintage silver serving plates, tins and garden benches, said the atmosphere and lighting is inviting.
"I think customers will have a great time hanging out in here," she said.
Customers can give the business a try at a grand opening event from noon to 4 p.m. on Saturday, Nov. 14. The event will feature music, a sketch artist and perhaps an appraiser.
For more information: 503-831-3100.