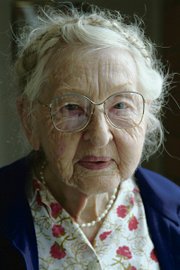 The ride to Pedee Memorial Evangelical Church Sunday, Nov. 8, with my nephew and his wife, Larry and Mary Shellenbarger of Buena Vista, was uneventful. There were clouds that dimmed the sun. Many of the roadside trees and shrubs had lost their leaves, but many were still pretty with bright autumn colors.
The recent rains had helped sprout seeds in the planted fields, which were a pretty green.
Something different were the large trucks that were hauling recently cut Christmas trees to be shipped to market. A Pedee Creek neighbor, Jerry Mentzer, is driving one of the trucks.
The dogwood tree at the church has only a few of its dark leaves still on the branches.
Among those at the church were new pastor candidate Steve Burgland, his wife, Cindy, and their sons, James, 17, Ben, 14, and Alex, 8. They are from Yakima, Wash. Steve has lived in Albany.
Pastor Burgland opened the worship service with prayer. Several attendees had items to share during the announcement period. The pastor closed with prayer.
Dan Hayes and Stacy Weidenmann led the songs of praise as Pam Burbank played the piano or organ. Burbank has rented an apartment in Dallas.
Burgland took the praise and prayer requests. The LaVoies, who have been ill, were remembered, along with other requests. Cindy Jones, whose husband, Tom, has been called up and reported for more training before overseas duty, spoke and reminded everyone that his address is in the church bulletin.
Burgland closed with the pastoral prayer.
Hayes and Weidenmann led the singing of "Praise God, from Whom All Blessings Flow." Hayes conducted a prayer before the tithes and offering were received.
Burgland read Mark 12: 28-34 for his message "Back to the Basics." "God loves us. We are to love Him with all our heart, intelligence and passion, and love our neighbors." The message closed with prayer.
Hayes gave the benediction and all stood and sang "Anywhere with Jesus."
The cookie fellowship was shared in the foyer.
--
The Sunday church bulletin noted several upcoming events for later in November:
* The third annual "Stone Soup" Thanksgiving Fellowship Meal is Sunday, Nov. 22, at 11:30 a.m. at the church. The sheet includes "The Story of the Stone Soup" and other information.
* On Saturday, Nov. 28, at 6:30 p.m. is the monthly Movie Night, with the film "Up."