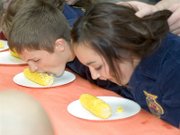 PERRYDALE -- Saturday night was all about community at the 26th annual Perrydale FFA Corn Feed.
FFA members spent much of last week preparing to serve what they hoped would be a record number of guests. Their hard work paid off as people came out in droves to keep them busy.
Tables were full and the kitchen was buzzing pretty much from start to finish during the evening. The hard work attendees witnessed on Oct. 3 was just a small part of what students put into the event in the past few weeks.
Organizers picked about 3,000 ears of corn, made 33 gallons of applesauce and had 700 servings of apple crisp to prepare to make the feast possible.
On Oct. 1, students in Kirk Hutchinson's agriculture classes went on a muddy quest for corn. Their destination was May Family Farms near Dayton. The farm has been donating the corn for the last five years.
"It's nice to see people who care to put on a function like this," co-owner Robert May said.
He said agriculture is not an easy industry for young people to break into anymore and he is glad to support an event that raises interest.
Hutchinson said putting on events like the corn feed also allows students to learn valuable lessons and skills. Students involved are given a role, whether it be putting together the menu, advertising, setting up produce donations, serving, or gathering the event's signature item.
With 30 students on the Oct. 1 corn-picking trip, they were able to gather the corn in about 45 minutes. They heaved in bag after bag full of ears of corn. The haul filled the back of two pickup trucks. The field was soupy, but the corn was ripe. A few students couldn't resist eating it raw.
This was the first time junior Ellie Carmona, Perrydale FFA chapter vice president, ventured on the corn-picking trip. She regrets having not done it in the past. She said there are plenty of FFA events she looks forward to, but the Perrydale Corn Feed is among her favorites.
"It's the most fun fall event," she said.
If it wasn't corn the students were after, it was another fall treat: apples.
Christina Sekafetz's week was all about apples. She helped make applesauce and prepare apple crisp for servers at the Corn Feed. Toward the end of the evening Saturday, she was able to take a well-deserved break.
"It's fun," she said. "Exhausting, but fun."
All the time and energy brought in 623 guests and $2,220 to support Perrydale FFA programs. It wasn't quite a record for the event, but raised about $900 more than last year.
It's not just about the money and the turnout for the students, though. It's about community pride.
Ryan Brooks, a senior at Perrydale who has been in FFA for three years, says it's a way to connect people.
Attendees agreed.
"It's awesome ... for the price and for the kids," said Charles Sekafetz, whose daughter was among the students dishing up the food. "It gives them an opportunity to put themselves forward and do something for the community."
The event has done that from the beginning, albeit on a smaller scale, 26 years ago. The first year Hutchinson said the corn picked fit in the back of a sub-compact car. That was enough to serve about 70 people after a volleyball match.
Carmona said the Perrydale FFA Corn Feed is something she will come back for even after she graduates.
"Perrydale doesn't grow on you," she said. "It grows in you and you can't get away from it."