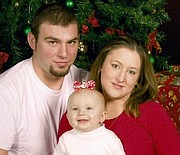 Wentz-Trine
Megan Ren' Wentz of Dallas and Andrew Scott Trine of Dallas are planning a December wedding.
The bride-to-be is the daughter of Joan Cribbs of Baker City. Her fiance is the son of Craig and Caroline Trine of Dallas.
Megan, a 2006 graduate of Baker High School, is a certified nurses assistant at Dallas Retirement Village.
Andrew, a 2007 graduate of Morrison Alternative School in Dallas, is a heavy equipment operator at Meisel Rock Products in Sherwood.
The wedding is set for Saturday, Dec. 12, in Salem.
More like this story