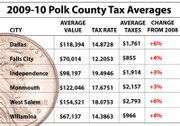 POLK COUNTY -- Tax statements will be mailed to Polk County residents on Friday, Oct. 23, and there's bad news for property owners -- your tax bill likely is going up.
Depending on where you live, most residents will see an increase ranging from 3 percent to 6 percent, according to data released by the Polk County Assessor's Office.
Tax payments are due Monday, Nov. 16.
The total amount of taxes, special assessments, fees and charges to be collected for all districts in Polk County is approximately $69.9 million for the 2009 tax year, an increase of 6.1 percent over the $65.9 million in 2008, said Polk County Assessor Douglas Schmidt.
The overall assessed value of Polk County grew by about 4.5 percent from last year to $4.49 billion.
Most property owners will see an increase in their property taxes this year.
"The primary contributors for this increase are the implementation or expansion of several voter-approved bond measures, the 3 percent increase in assessed value allowed by law, and new value added from new construction," Schmidt said. "If tax revenue from the bond measures is removed, the increase in overall tax revenue would have been only 4 percent."
The largest tax increases will be in Dallas and West Salem at 6 percent, followed by Falls City and Willamina at 4 percent. Property owners in Independence and Monmouth will see a 3 percent increase.
Given the economic downturn, many individuals might have expected their taxes to decrease. That's not the case, explained Schmidt.
"With the declining real estate market, you would expect your property taxes to go down. However, Measure 50, passed by voters in 1997, does not have a connection between the real market value and the assessed value placed on a property," he said.
Currently in Polk County, the assessed value for residential property is approximately 70 percent of the real market value, Schmidt said. Because your taxes are calculated on the assessed value of your property, the real market value can decrease but your taxes may still increase.
Schmidt noted that while the assessed value on your tax statement may only have increased by 3 percent from last year, there are cases where the total taxes may have gone up by 4 percent or 6 percent. This is primarily due to the voter-approved bond measures that were passed or expanded for the 2009 tax year.
Schmidt said when looking at the value portion of the tax statement, the real market value is the value the assessor believes your property would sell for on the open market as of Jan. 1, 2009. The assessed value is the value you are being assessed taxes on.
Polk County now has four operating Urban Renewal Districts within the cities of Salem, Dallas, Independence and Monmouth.
"From these combined UR Districts, approximately $2,474,807 (Salem, $1,925,510; Dallas, $75,712; Independence, $371,913; and Monmouth, $101,672) will be collected from the Division of Tax and Levies used toward urban renewal projects," Schmidt said.
Schmidt encourages property owners to take this opportunity to review their tax statement for accuracy of information, such as the correct ownership, mailing and location address. If there are any questions or changes needed, contact the Polk County Assessor's Office at 503-623-8391.
Property owners who do not agree with the value placed on their property by the assessor's office will find instructions on the back of the tax statement on how to appeal to the local Board of Property Tax Appeals.