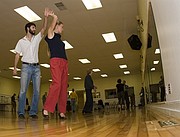 DALLAS -- Ballroom dancing isn't just about reality show competitions and finding out which celebrities have rhythm. On Wednesday nights in Dallas, it's about having a good time moving your feet.
John Juhring, one half of the husband-and-wife dance instruction team, said the "Dancing with the Stars" craze hasn't hurt enrollment in Dallas Intercommunity Activity Network ballroom dance classes. Seeing football stars, boxers and Olympic champions willing to waltz has made it easier for the everyday guy to brave the dance floor.
Once couples join the classes, they find the Juhrings' no-pressure teaching style turns learning to dance into a fun experience.
"They have a very comfortable style," class participant Joanna Picchi said. "They don't push too hard."
Dancers focus on one dance for three sessions. The lessons eventually offer participants the confidence to take the floor on their own, Picchi said.
"You feel like you can get up and do something when that type of music is playing," she said.
A recent class focused on West Coast Swing.
Picchi and her husband, John Coyier, have been taking classes for several years, starting with Coyier learning to dance for the couple's wedding.
Class participants span all ages, with some in their teens and early 20 to a few people in their 70s and 80s joining the class at The Majestic.
Kristiina Thomas and Will Hughes were at their third lesson.
"This is our date night, so we thought this would be a good way to spend it," Hughes said.
The couple said so far they have had a good time learning the swing and want to take more lessons.
"They use clear instruction and make it fun," Thomas said of the Juhrings.
The class alternates between teaching and practicing. Couples form a circle on the dance floor and John and Suzette teach from the center. They explain dance steps and movements and demonstrate what it should look like. Then they watch as the couples give it a try, assisting dancers needing additional tips. After a few practice runs, John plays music to put a little swing in the dancers feet.
By the end of the night, the couples have learned a series of moves. Add some upbeat cross-over country music and what began as slow and unsure movements becomes dancing.
The Juhrings have been instructors for about nine years.
"We love it," Suzette Juhring said. "You meet the most wonderful people."
They teach classes in Dallas, Keizer and Salem.
The Juhrings have been married for 48 years and started dancing about 30 years ago. Dancing and teaching dance has kept them young, Suzette said.
"Most people become couch potatoes," she said. "This gets us out."
They say the same is true for their students. Dance is good exercise for the body and mind because dancers aren't just moving, they are memorizing steps and working with a partner to make the dance flow. The Juhrings try to keep people coming back to the classes with low-key instruction.
"We try to put them at ease and have fun," John Juhring said.
Each six-week class teaches two dances. The dances are chosen based on similarity in steps, so once participants learn one dance, the second is easier to master.
Oct. 7 was the last night of West Coast Swing. The tango is up next for class participants.
Suzette gave the dancers a little encouragement before they approach the new dance in the next class:
"If you can walk, you can tango," she said.