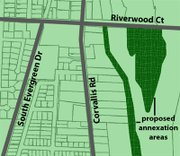 INDEPENDENCE -- The Independence City Council on Oct. 13 approved annexations of nearly 40 acres that will play a role in future drinking water supplies for Independence and neighboring Monmouth.
One involves 16 acres that includes an old railroad right-of-way between Corvallis Road and the Willamette River south of the Independence bridge, and the gravel bar just upstream of the bridge.
A wellfield project is being jointly developed by Monmouth and Independence on the rail bed, making the annexation necessary to extend utility pipes and other services to the site, said Shawn Irvine, community development technician.
Independence had intended to annex another two acres on the rail bed that runs west from Corvallis Road to Sixth Street beyond the city limits. But that was opposed by two landowners who feared the changes would allow Independence to conduct "island annexations" on their unincorporated properties.
The final segment, which wasn't necessary for the wells, was removed from the request due to complaints. But a future petition for annexation is possible there when residential development forces the creation of an east-to-west arterial road, according to city staff.
The other segment was a 20-acre parcel owned by the city of Monmouth just southeast of the spot where Fourth Street dead ends.
Monmouth officials intend to erect a 1 million-gallon reservoir on the site, which already houses two of Monmouth's municipal wells.
Zoning was changed from Polk County's suburban residential designation to an Independence public service zone.