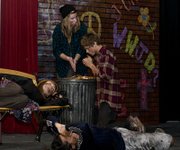 Godspell
What:
Central High School drama department presentation of "Godspell."
When:
Oct. 21-24. All shows start at 7:30 p.m.
Where:
Central High School, 1530 Monmouth St., Independence.
Admission:
$5 all ages.
For more information:
503-606-2225.
MONMOUTH/INDEPENDENCE -- Improvisation is the key characteristic of Central High's fall musical, "Godspell" -- in both its actual performance and preparation for the play, which kicks of its second four-day run today (Wednesday, Oct. 21).
Director Jeff Witt said he was aware last June that the high school's reconstruction project would leave theater facilities in relative disarray.
A traditional play was out of the question, as his set-construction and dressing rooms have since been turned into music rooms.
"It's a year of flux, in trying to find space," Witt said. "So I chose a small play, it has a cast of 13 people, doesn't call for a huge set or lots of costume changes."
"Godspell" is an unconventional 1970 musical, written by Stephen Schwartz and John Michael-Telebak that focuses on a series of parables included in the Biblical gospels of St. Matthew and St. Mark.
Because the setting wasn't explicitly described in the original script, play productions are open to interpretation -- the original depicted a troupe of clowns -- and have varied widely in the past four decades.
Central High's play will be set among a community of homeless people, but each scene deals with a different parable -- such as the return of the prodigal son.
Witt instructed his cast members to come up with their own interpretation for vignettes. So, expect to see scenes ranging from Southern tent revivals to the Crocodile Hunter.
"It's a lot more our own play than a play that we're just going to perform," said senior Chris Lippert, who portrays Jesus.
If "Godspell" represents a creative challenge, rehearsals amidst renovation work have been another, said Eden Olsen, another cast member.
A combination of alarm-system testing inside the old auditorium and the racket of heavy equipment just outside its glass facade has prompted the cast to spend much of its dance rehearsal time in front of mirrors in the hallway, Olsen said.
"We started our music rehearsals at my house the first couple of weeks of summer," she said. "It's been interesting."
Unfortunately, Central High's new, 599-seat, state-of-the art theater won't be completed until next fall.
"That's a big bummer," said Olsen, adding she graduates next June and won't have a chance to perform there.
Still, Witt said "Godspell" has turned out to be a lot of fun, for the cast and the audience, noting Wednesday's performance will include a sing-along for attendees.
"More people have called in for this show than any others," he said.