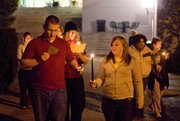 MONMOUTH -- Katherine Garcia thinks she was 8 years old the first time her father hit her. As the eldest of two siblings, she usually took the brunt of it.
There was a long stretch during her childhood where she and her younger brother would come home from school and remain in their rooms until bedtime, to avoid confrontations, Garcia said
"You can't really talk about (the abuse) to your friends," she told an audience at last week's Take Back the Night event at Western Oregon University. "When you're that young, you don't really know who to talk to or what to do about it."
Garcia remembers one of the last incidents during her final year of high school. She came home from work one evening, half an hour after curfew. Livid, her father yelled, then swung at her.
Her mother intervened, and Garcia ran up to her room and dialed 9-1-1.
"It was the first time I had ever done that," she said. "I was sobbing ... I'm fairly certain I sounded like a 5-year-old."
When police officers did show up, her parents acted as if nothing had happened, fearful their children might be taken away from them.
At previous Take Back the Night events at Western, there has always been a time set aside for attendees to share their stories of abuse and inspire action.
Garcia, a WOU senior, was the first to volunteer for a gathering of about 30 students and community members at the Werner University Center on Oct. 22. She said after these instances in high school, she would keep it hidden from close friends and teachers.
"I told my story because I feel that until we as a society stop hiding the abuse, nothing will change," she said.
Abby's House, a campus networking group, coordinated the evening to coincide with National Domestic Violence Awareness Month. After a series of presentations, attendees held a candlelight vigil.
"I see (the violence) a lot," said Stefanie Wettland of Monmouth, a caseworker at a homeless shelter in Salem. "It's good that (speakers) are standing up and talking about it ... I find it powerful."
According to the National Center for Injury Prevention and Control, women experience 4.8 million physical assaults or rapes by intimate partners every year. State and local child protective services nationwide investigated 3.2 million instances of child abuse in 2007, according to a Center for Disease Control study.
Sable (Safe from Abuse and Battered Living Environments) House in Dallas is Polk County's only shelter for battered women and children.
Staff there answered more than 2,800 calls on its crisis hotline, served more than 800 first-time clients, and provided 1,800 nights of shelter in 2008, said Deborah Thompson, executive director and a TBTN guest speaker.
"That's just here in Polk County," she said.
Fear of stepping forward and reporting sexual assault or physical abuse has been a hurdle for preventing domestic violence, Thompson said.
"We as a community cannot accept it as OK," she said. "We can't turn our heads to it, our backs to it and be quiet any longer."
Garcia's family didn't. A few days after that 9-1-1 incident, her father had another blowup when she came home late from work. This time, she yelled back.
"I told him if he didn't stop yelling, I would call the cops again and this time I wouldn't hang up," she said.
Things escalated, so Garcia's mother issued an ultimatum; get counseling or lose his family. Garcia's father chose counseling.
"It's been five years," she said. "He hasn't laid a hand on us since then.
"You can do something," she added. "But you have to let friends and family help you."
For more information on domestic violence prevention and support: Abby's House, 503-838-8288; SABLE House, 503-623-6703 or www.sablehouse.org.