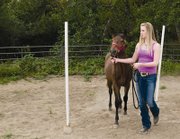 DALLAS -- Keyla, a 10-month-old mustang filly, was a bundle of nerves Friday morning.
Still very much a baby, anxious energy makes it hard for her to focus on the task at hand. With some coaxing, the young horse allowed trainer Barbara Jayne Lerwick of Dallas to lead her weaving through a set of three poles, forward and backward.
It may not seem much of a feat, but given Keyla's journey in her short life so far, she has come a long way.
The bay colored filly's first family was a herd of wild horses roaming rangelands east of the Cascades. She's in her temporary home with 18-year-old Lerwick and her family as part of a program called Teens and Oregon Mustangs intended to increase adoption of wild horses. This is the first year of the program.
Lerwick, a 2009 Dallas High graduate, has trained horses since sixth grade. She is teaching Keyla the basics: wearing a halter, following on a lead, turning and backing, and loading into a trailer.
"Three months ago she had never even been touched by a human, so she's doing pretty good," said Barbara's mother, Barb Lerwick.
The filly, who still is shorter than Lerwick, wouldn't stand still in the practice ring at Four Springs Ranch, where Lerwick boards Keyla and another three horses. Occasionally, the youngster would stomp her hoof in a seemingly impatient manner. Lerwick said the generally easy going horse just needed some more play and running time.
Keyla was captured and separated for adoption when she was two or three months old. In late May, she was placed with Lerwick. The Oregon State University-bound teen has 98 days with Keyla, ending with a Saturday, Sept. 5, competition with 14 other teens showing off how much their young horses have learned.
"A lot of people's perception about wild horses is that they are not trainable," said Erica Knight, the program's organizer. "That is simply not true."
Knight, a horse trainer at FitzGerald Farms in Yamhill, where the competition will be held, is speaking from experience. She and her husband were selected as contestants for the Western Extreme Mustang Makeover contest earlier this year. Being quarter horse people, they were not thrilled about the idea, but the horses assigned to them eventually gained their respect.
"We have learned more about horses through the mustangs than any domestic horse we have had," Knight said.
After the competition, Knight approached the Bureau of Land Management, the agency managing the herds of wild horses and burros on public lands, with the teen competition idea. Her goal is to help place more mustangs with families. Managers agreed to give the program a try. If the contestants are successful in adopting out their horses, the program will continue.
With the show rapidly approaching, Knight said the 15 participants are working well with their horses.
In Lerwick's case, Keyla is returning the favor. The teen didn't have much experience with mustangs before the contest.
"They are smart and hearty and don't spook as much," she said. "She is more willing to look at scary things."
That sense of adventure will be tested Sept. 5 during the three-class competition. The challenge includes an obstacle course or in-hand trail class, showmanship class and a third open-category class where the contestants can show off their horses' strengths.
They are also graded on their horse's appearance and conditioning. When captured they are no supermodels, Knight said.
"They are really scrappy, thin and scruffy," she said. "They just look like they need a bath and to be fed."
The horses in this competition aren't as striking as other horses at the BLM wild horse corral, therefore less likely to be adopted.
Knight hopes the competition will help improve the image of mustangs and prove they can make a well-trained horse given time and attention.
"If one is gentle and trained, (people) are more apt to bring mustangs into their home because it is safe," Knight said. "I wanted to prove if the kids can do it they can do it too."
People will be able to bid on the horses after the event. The minimum bid is $25, the BLM's fee for collecting the animals. Anything above the fee will go directly to the participants.
Considering the possibility of having to say goodbye to the horse she has spent all summer with, Lerwick said she will be sad to see Keyla go. Then she added the yearling is ready to make her debut.
"She'll make someone a really nice horse," Lerwick said. "She has all the tools."