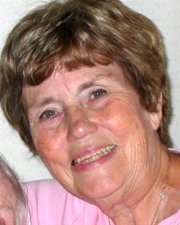 Thanks to television, the Internet and even good old radio, those of us who are political junkies had a field day last week with presidential speeches.
President Barack Obama spoke to students in classrooms nationwide about the importance of a good education, and to all of us when he spoke to our elected senators and representatives the following evening. Whatever your political persuasion or affiliation, we can all learn something if we take the time to listen for ourselves and make our own judgments after hearing both sides of any issue.
Washington, D.C., sometimes seems far away from MI Town, but what happens in our nation's capital is important to all of us. Our children learned that they can achieve goals if they work hard at school, to respect their parents and teachers, and to always do their very best.
All the teachers I've spoken to in the days since the speech say their students were inspired by the president taking time to talk to them. It's a very exciting way to begin the school year.
--
Another positive move we can all make to help both children and adults is to do whatever we can to be sure that the OSU Extension Service remains a viable member of our county and our communities.
The drive to put a measure on the ballot to fund this program needs your help. We can keep all these valuable programs in MI Town and Polk County for the small cost of $11.75 per year for a home assessed at $150,000. That's a container full of redeemable bottles at the grocery store, or about what's probably in sofa cushions and old purses in the back of the closet.
If you haven't had the opportunity to sign the petition, the OSU Extension Service canopy will be set up at the Roth's Fresh Market parking lot in Independence on Sept. 19 and Sept. 26 after 10 a.m. If you can help, contact Karen Lippsmeyer at 503-838-0864 or Judy Pope at 503-838-2605.
--
Have fun visiting with friends and neighbors, and find good things from the garden as well as all kinds of arts and crafts items on Wednesday afternoons at the Monmouth Farm and Craft Market in the old fire station parking lot, across from Main Street Park in Monmouth, and on Saturday at the Independence Farmers Market in the Sterling Savings Bank parking lot.
--
Western Oregon University's first home football game of the season is this Saturday, Sept. 19, when our Wolves meet Dixie State at 2 p.m. What could be more fun than a football game on a bright and shining September afternoon in MI Town? Help support WOU athletic programs, have a great time and catch some youthful enthusiasm and energy. See you there.