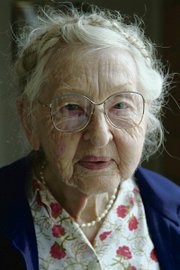 The Rev. Marion Seick of Monmouth led the Sunday service at Pedee Memorial Evangelical Church on Sept. 6.
He preached on the importance of staying connected to God through prayer. Acts 3:1-20 says that then, once we realize that we are sinning (in other words, "missing the mark"), we can change the way we think and act and turn to God and he will forgive us.
Rev. Seick also pointed out that if each of us in attendance, about 25 people, did one good deed in Christ's name each week, we would reach 100 people a month, or 1,200 throughout the year.
We prayed for Mary Hendrickson, who had suffered a stroke, for the children going back to school, and for several others who needed our prayers and concern.
We also prayed that it wouldn't rain during Brennan Burbank and Callie Liner's wedding that afternoon, which was held in the gardens of the historic Deepwood mansion in Salem. Fortunately, they had a large tent over the event as it did rain, sometimes so hard we almost couldn't hear the ceremony.
The bride and groom are both Oregonians who know rain happens, so they accepted it in good grace, and the wedding was beautiful in spite of it and will be memorable because of it.
Brennan is the son of Dave and Suzanne Burbank of Airlie and Callie is the daughter of Andy and Jackie Liner of Dallas. They now live in Independence, as Callie works and goes to school in Salem and Brennan goes to school at Oregon State in Corvallis.