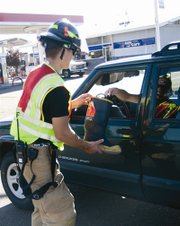 WHS schedules
fundraising bash
Deadline is Thursday, Sept. 24, to purchase tickets for the Willamette Humane Society's annual signature fundraiser, Bowser's Boo Bash, set for Saturday, Oct. 3.
The event begins at 4:30 p.m. at the Salem Conference Center and includes a gourmet dinner, drinks and appetizers, live entertainment, and a silent and oral auction.
Tickets are $60 per person. Proceeds assist the Willamette Humane Society, which serves Polk and Marion counties, in providing care and temporary shelter for more than 10,000 animals annually and help with placement efforts.
For more information: 503-585-5900, Ext. 600; www.WillametteHumane.org.
Monthly music jams
return to center
The Dallas Senior Center resumes its monthly open-mic music jam sessions on Thursday, Sept. 24, at 6:30 p.m.
Area singers and musicians are welcome to attend and participate. The senior center is at 955 SE Jefferson St.
For more information: Michele Campione, 503-623-5055.
Library book sale
slated Sept. 25-26
Friends of the Independence Public Library will host its annual fall used book sale this weekend.
The sale will be held Friday, Sept. 25, and Saturday, Sept. 26, from 10 a.m. to 4 p.m. at the site of the old city library at 311 Monmouth St. in Independence.
A large selection of fiction, mystery, westerns, LP records, videos, books on tape, old books, cookbooks, garden books and more will be available and for sale.
For more information: Betty Plude, 503-838-4039; Independence Public Library, 503-838-1811.
Dallas seniors plan
brunch fundraiser
Dallas Area Seniors will host a brunch fundraiser Saturday, Sept. 26, from 9 to 11:30 a.m. at the Dallas Senior Center, 955 SE Jefferson St.
A variety of egg and potato dishes, muffins, fruit, juice and coffee will be available for $5.
An ongoing silent auction also is taking place, with bids accepted through 11:30 a.m. at the brunch. Items include a wine basket, handmade afghans, a fishing tackle box and more.
Proceeds from the brunch and auction benefit the Dallas Senior Center new building fund.
For more information: 503-623-8554.
Monmouth nursery
sets Saturday class
A class offering instruction on making concrete leaf impressions from your garden will be held Saturday, Sept. 26, from 10 a.m. to 1 p.m. at Dancing Oaks Nursery, 17900 Priem Road, southwest of Monmouth.
Cost is $35. Materials are provided. Class size is limited to 12 participants and preregistration is required.
For more information: Leonard Foltz, 503-838-6058; e-mail to dancingoaksnursery@gmail.com.
Hospice hosting
tips on finances
Willamette Valley Hospice will offer a free two-hour financial workshop, "Next Steps: Making Sound Financial Decisions for You and Your Family at the End-of-Life," Saturday, Sept. 26, from 10 a.m. to noon.
The seminar is presented by Suzanne K. Brazier, ChFC, Financial Planner with Willamette Financial Group LLC of Salem.
The workshop will be held at the offices of Willamette Valley Hospice, 1013 3rd St. NW, West Salem, and will cover topics including: How to open the conversation, what to do after a death, how to take stock of your financial situation, and what's ahead?
To register or for more information: Lori Ensign, Willamette Valley Hospice, 503-588-3600.
A Child's Haven
plans pony event
A Child's Haven will host its September Pony Saturday for families with children who have special needs on Sept. 26 at FenMere Farm, 15175 Oakdale Road, Dallas.
"Teddy Bears' Picnic" is the theme for the free event, which runs from 1 to 3 p.m. rain or shine. Attendees are welcome to bring a favorite teddy bear. It is an opportunity for pony hugs, pony rides, storytimes and other activities.
Closed-toe shoes are recommended for all visitors and required for those who participate in pony rides.
For more information: Teresa Larios, 503-837-0244; e-mail to tlarios@childshaven.org; www.childshaven.org.
Old Time Fiddlers
to play in Falls City
The Oregon Old Time Fiddlers will conduct a benefit performance Saturday, Sept. 26, from 2 to 3 p.m. at the Falls City United Methodist Church.
The event, which will also include a sale of home-baked pies and pastries, is a fundraiser for the historic church and its restoration building program. Admission is by donation.
The church is located at the corner of North Main Street and First Avenue in Falls City.
For more information: Pastor James Simmons, 503-851-3213; Kay Graven, 503-623-5495.
Dallas UMC hosting
Sunday Arts Festival
Dallas United Methodist Church is hosting its first Arts Festival Sunday, Sept. 27.
The event begins with a presentation during the church's 11 a.m. worship service, followed by an art and hobby display featuring items from members and friends of the church.
A musicale will be held at 3 p.m. featuring soprano Abbe Groh and violinist John Nastari.
Light refreshments will be served. Admission is free and the event at 565 SE LaCreole Drive is open to the public.
For more information: 503-623-2481.
Saddle club plans
open house event
The Polk County Saddle-ites Saddle Club will host an open house and play day Sunday, Sept. 27, at the Polk County Fairgrounds in Rickreall.
Events include barrels, ribbons, poles, bi-wrangle, figure-8, keyhole and jackpot. Entry fee is $20 for the day or $5 per class. Jackpot entry is an additional $5.
The play day runs from noon to 6 p.m.
For more information: Jeff Mentzer, 503-838-4452.
Water quality topic
of Sept. 27 talk
Excerpts from the PBS Frontline video "Poisoned Waters" will be shown during a presentation on the Clean Water Act Sunday, Sept. 27.
The event begins at 3 p.m. at Christ's Church, 412 W. Clay St., Monmouth. The program examines why it is hard to keep our waters clean. A discussion time will follow. Light refreshments will be served.
For more information: 503-838-1724.
Cultural classes
offered by WOU
Four language and culture classes coordinated through the Western Oregon University Division of Extended Programs will be offered beginning the week of Sept. 28.
Classes will be available in beginning Chinese, beginning Russian, beginning Arabic and intermediate Arabic. Each offers an opportunity to learn the alphabet, pronunciation and basic conversation, as well as exploring another culture.
For more information: 503-838-8483; e-mail to extend@wou.edu; online at www.wou.edu.
Volunteers sought
for counseling roles
Application deadline is Monday, Sept. 28, for individuals interested in becoming volunteer senior peer counselors.
Volunteers assist people of Polk County, ages 60 and older, to become more self reliant, independent, and have an enhanced quality of living.
A free basic training program will be offered on Tuesdays and Thursdays in October at 3521 Fairview Industrial Drive SE in Salem. Volunteers work in geographic areas near their own home.
For qualifications and more information: Jeff Lukehart, 503-304-3414; e-mail to jeff.lukehart@state.or.us.