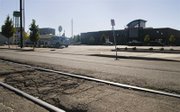 INDEPENDENCE -- A long-term solution regarding the deterioration of 2nd Street -- because of freight train travel on the railroad tracks that run through it -- isn't coming anytime soon.
The city of Independence fell just short of receiving a $120,000 grant from the Oregon Department of Land Conservation and Development that would have paid for conceptual planning on improvements to tracks operated by Portland and Western Railroad (PNWR).
That project would have looked at improving the crossings, as well as enhancing parking, pedestrian and signage systems, said Shawn Irvine, community development technician.
Irvine said Independence was a first alternative for the grant.
"We need a funding source," he said. "Determining a long-term solution will require a pretty serious look as far as what kind of design will mesh train traffic with our streets."
The city can't force PNWR to repair asphalt between the rails, though the company does that periodically when it does maintenance of the tracks.
Ron Russ, PNWR general manager, said that the tracks are still safe for freight train use.
A complete overlay hasn't been done since 2004, but a temporary fix around 2nd and E streets could happen "in the near future," he said.
Irvine said there hasn't been much discussion with railroad representatives since this spring.
One of the holdups to railroad repairs is a disagreement between the sides regarding specific solutions.
PNWR favors an "open trench" setup, which entails exposed railroad ties and a short curb paralleling and separating tracks from the street.
The city has pushed in the past for "panelized" crossings like the one at the intersection of Monmouth and 2nd streets.
Russ said any solution must address separating train operations from vehicular traffic along 2nd Street, including physical barriers.
"In the past five years, PNWR has not seen any conceptual design for any activity related to the rehabilitation of our tracks through 2nd Street in Independence that satisfies our safety concerns," he said.
Not much will be done until a comprehensive and formal examination of pros and cons of options is complete.
Covering the cost of planning on its own would take a significant portion of the city's system development charges, Irvine said.
"We were applying for $120,000," Irvine said. "But you can pave a lot of road with $120,000.
"We wouldn't say it's on hiatus because we're always keeping an eye out for opportunities to make this work," he continued. "But in terms of immediate progress, yeah, there's not going to be a lot going on."