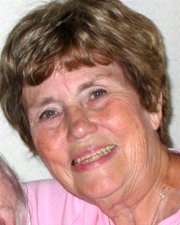 MI Town's local elementary-school, middle-school and high-school students are back into the swing of the school routine, while collegians are just beginning classes at Western Oregon University this week.
Thursday, we turn the calendar page to a new month -- and for those of us who wish for endless warm and sunny days, it's time to put away our summer memories and try to remember where we packed away the coats, jackets and umbrellas.
October can bring us golden days, cool evenings and the promise of one of Oregon's best seasons -- Indian Summer.
--
I can't remember a more fun Hop & Heritage Festival than we all celebrated during the past weekend. Thanks to all the hard work and time commitment by Jerry Hoffman, Marilyn Morton, Peggy Schorsch, Vidal Pe¤a, and many others, the festival offered something fun for MI Town residents and visitors of all ages.
What else can be said about barbecues, ghost walks, pancake breakfasts, and goodies available from vendors along Main Street and at Riverfront Park?
The Friends of the Independence Library's used book sale was well attended. Rogue Ales' beer garden was fun for the 21-and-over crowd, and featured local hops in some of their offerings. We were all royally entertained all weekend long, and Mother Nature cooperated to give us sunshine, blue skies and good weather.
Isn't it fun to show off our communities and share enthusiasm with visitors from near and far?
--
The SEEK Volunteer students from WOU's Service Learning and Career Development program were busy all day Friday, Sept. 25, with projects for seniors in MI Town. The Monmouth Senior Center's building and grounds were cleaned, polished and weeded, and it was fun to share all that youthful enthusiasm and energy.
--
Monmouth Senior Center's community breakfast is Saturday, Oct. 3, beginning at 8:30 a.m. You'll have the opportunity to enjoy pancakes, eggs, sausage, and biscuits and gravy with family and friends. Prices are $5 for adults, $3 for children under 12, and servings are generous. It's a great way to start your busy weekend.
--
It's not too early to remind everyone that the Monmouth Senior Center's semiannual Soup and Pie Sale is just two weeks away. Mark your calendars for Thursday, Oct. 15.
--
Road and school construction zones in MI Town have -- at times -- tested our patience and reminded us that we need to factor in occasional delays during our travels here and there. It's good to see that most everyone is cooperative and understanding during these journeys, and that the changes being made are for the better. Slowing down for traffic or for school zones helps remind us to be more careful and attentive to our driving.