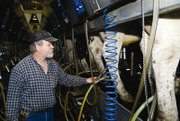 POLK COUNTY -- These are tough times to be in the business of putting milk on kitchen tables.
Dairymen have been battling a sharp drop in wholesale milk prices since the end of 2008. And like with the overall recession, there's few signs of relief in sight.
"This is the worst I've seen in 30 years," said Jack Platt, owner of Platt's Oak Hill Dairy in Buena Vista. "There's been many times where we have had some bad spells, but they've never lasted this long."
The dairy products industry has been a microcosm for the world's economy downturn, said Mike Gamroth, a dairy specialist for Oregon State University Extension Service.
Gamroth said farmers in the United States suffered from growing feed costs in recent years, but that had been offset by high prices because of the demand from Asia for milk powder and whey. But financial crisis there now means a reduced demand for American dairy exports. And the recovery of New Zealand and Australia -- major dairy exporters -- from a years-long drought means a greater international dairy supply.
At a more basic level, people are altering their eating habits according to their wallets.
"A big use of dairy products is cheese," Gamroth said. "And people are going out to pizza less often, or they're fixing their own meals instead of getting convenience food with cheese on it."
All of this means turmoil for dairy farmers in Polk County, which ranks third among Oregon counties -- behind Tillamook and Linn -- in dairy production.
Farmers are paid per 100 pounds of milk produced, referred to as hundredweight. A generally recognized benchmark to cover overhead is $14 to $16 per hundredweight.
Gamroth said prices totaled nearly $19.50 per hundredweight in January of 2008; as of last month, that figure had dropped to $11.25.
Platt said he figures he's losing about $100 a month on each of the 1,400 cows on his conventional dairy in Buena Vista. He also owns an organic dairy in Turner.
"We're losing money big time," said Bernie Faber, owner of Cal-Gon Dairy in West Salem. The family-run business owns 300 cows and produces about 600,000 pounds of milk per month.
"And the price had gotten as low as $9 to $10" per hundredweight, he said. "And our cost of production then was between $17 and $18.
Faber said he's tried to lower his expenses by using his own forage in favor of buying grain feed.
"That's helped our costs, but we sacrifice some production," he said.
Platt, meanwhile, said he's been culling -- slaughtering -- perhaps 8 percent more cows this past year than he had previously.
Gamroth said as farmers cut back on expenses, they're living off depreciating equipment. "They're not repairing anything or creating anything new," Gamroth said.
Farmers have been living off of equity as profits have shrunk, Gamroth said. Fortunately, lending institutions have been supportive.
"The banks understand the bind farmers are in," Gamroth said, "and that it's not going to do (the banks) any good cracking down because they'll just be stuck with a dairy they can't sell."
One niche where the recession hasn't been as harsh is organic milk.
Jon Bansen of Double J Jerseys south of Monmouth said prices for organic milk have remained flat for years at about $24 per hundredweight.
"Our milk is sold mostly as a branded fluid product and we get paid a premium price," he said.
The 70-member Organic Valley co-op he belongs to also agreed to reduce production by 7 percent to prevent flooding the market.
Even so, "we've definitely seen a reduction in profits," he noted. "That's not avoidable."
Gamroth said that the dairy industry should be near the bottom of its downturn based on previous cycles, though there's no indication of prices climbing.
"If it stayed on like this another year or two, we wouldn't take the losses any longer," said Faber, a dairy farmer of 40 years. "We would have to sell our cows."