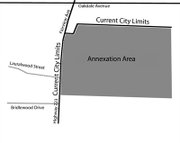 DALLAS -- The City Council approved an annexation at its Sept. 21 meeting that adds 49 acres to the city.
The area consists of several properties on the east side of Fairview Avenue south of the city limits.
Jerry and Jewel Carlson of Vancouver, Wash., applied to the city for the annexation. The couple is planning to buy a piece of the annexed property and develop it starting next year.
Jerry Carlson said he lived in Dallas with his family years ago and wants to retire in town.
"My interest is to help improve the entrance of the city," Carlson said after the council's unanimous vote approving the addition.
Carlson wouldn't elaborate further on how the property he is interested in will change, other than to say the wrecking yard in the area would be cleaned up.
The application included more than just the property the Carlsons intend to buy because the perimeter of the 49 acres provided a logical new boundary to the city, Carlson said.
Nine parcels are part of the annexation. Eleven of the 17 property owners agreed to the proposal. The rest either could not be contacted and the two owners of one parcel objected, according to a city report on the annexation.
Oregon statute in this case requires a triple majority, meaning the request has to be approved by a mix of owners representing the majority of owners, acreage and assessed value of the land in question. Community Development Director Jason Locke said all three conditions had been met.
Locke said the applicant for an annexation doesn't have to own a piece of land or be a Dallas resident.
Once annexed, the property can be served by city utilities and falls under all city ordinances and code enforcement laws.
The city likely will incorporate the annexed area with surrounding property off Fairview Road to create a master plan for area development. The area would be designated as "Fairview node" and require the master plan be approved before development could begin. A plan involves consideration of land uses, design, parks and open spaces, and roads and utilities, according to a city report.
Most of the property is zoned under the Polk County designation of acreage residential with two parcels zoned light industrial.
The master planning process, including zoning changes, will begin within the next year, Locke said.
"We didn't want to delve into zone changes without exploring the options," he said.