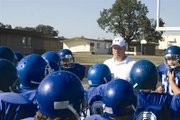 MONMOUTH/INDEPENDENCE -- "Running backs, handoffs," Talmadge Middle School football coach Mike Kissell barked as he divided his seventh-grade team by position for pregame drills before its season opener against Stayton last week.
"Make sure you get that big arm open," Kissell ordered, watching a player sprint 10 yards and whip the ball square into a teammate's gut. "Give the quarterback a good target."
The kids, all shapes and sizes, are eager for their first game of the season. So are their parents, who crowded around the playing field on the Central High School campus to watch.
Connie Aljbour of Monmouth was there to support her son, Jordan. It's his first year playing football, and "I don't want him to get hurt," Aljbour said.
She said she was more excited than anxious about the game, knowing that sports at the middle school almost didn't happen this year.
Talmadge's entire athletic program was one of the budget casualties for the Central School District for 2009-10, with no money available to pay for coaches and other costs.
In an effort to make certain kids had a way to play, however, community volunteers and Central Youth Sports (CYS) have helped fill in those gaps.
As such, Talmadge's football, soccer and volleyball teams are competing this fall, and there are plans to continue the basketball programs this winter and track and field in the spring.
"It's great that kids have something to look forward to," said Casey Armstrong of Monmouth, whose son, Samuel, plays football. "I think they would have been pretty bummed if there hadn't been any sports."
Representatives from Central Youth Sports, a local nonprofit that coordinates all-inclusive sports teams and tournament basketball squads, approached Talmadge about assistance following budget reductions in June. Those cuts eliminated dollars needed for coaching and officiating.
"Those kids have to have something to do after school ... besides nothing," said Becky Thomas, CYS office manager and Talmadge liaison.
Thomas said CYS is now footing the bill for referees, additional equipment and registration fees that provide for liability insurance. The school is still handling the transportation.
Meanwhile, 13 Talmadge staff members and Monmouth and Independence residents have picked up the coaching slack -- for free.
"We're very appreciative," Talmadge Principal Perry Labounty said, noting that 154 students are participating in sports this fall. "There's no school funding ... but it looks and feels the same for students."
Labounty said funding for middle school athletics was slashed the year he arrived at Talmadge in 2003, and it was tough on kids then.
"Sports creates a whole different climate," he said. "And for some kids, it's a motivation factor in maintaining grades for eligibility to play and to connect with other kids."
While CYS financial backing for this fall's sports season is secure, it appears unlikely for next year, Thomas said.
For example, "football equipment has to get recertified and that fee alone will be expensive," Thomas said. "But fundraisers and donations over the summer are a possibility."
Kissell, a firefighter paramedic with Polk County Fire District No. 1, had a high school coaching background and was approached about leading Talmadge's team. Mike Hassan, another paramedic, and volunteer Tristan Stagg joined him.
"One of the things I appreciated growing up was that there was strong support for sports programs," Kissell said. "I kind of felt it was my turn to give back to those who gave to me."
Kissell added that canceling the middle school's program would have negatively impacted Central High next year.
"They need to have those fundamentals," he said. "And if they miss those two years, that really hurts an entire program, not just the seventh- and eighth-graders."
Alex Quinn, a defensive tackle, said before the game -- which ended in a tie -- that he might have switched schools if sports weren't offered.
"I was just really happy we were going to get football," he said.