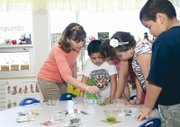 MONMOUTH/INDEPENDENCE -- Mary Gabaldon became a teacher right out of college in her native New Mexico in 1973. She's been with the Central School District for the past 21 years.
Terri Chappell is closing in on 32 years as a middle and high school teacher, including the last 12 at Central High.
Retirement might be on the mind for educators who have logged as many years in the classroom as Gabaldon and Chappell. But the two local teachers don't appear to be in any rush.
"I'm still enjoying it," said Gabaldon, 58, who works with bilingual first- and second-graders at Ash Creek Elementary School.
"As long as I still enjoy it, this is where I'll be," she said.
Gabaldon and Chappell were selected last month by their peers within the Central Education Association as primary and secondary teachers of the year, respectively.
They'll be recognized during the Monmouth-Independence Community Awards Banquet on April 29 at Western Oregon University.
"It's pretty humbling to be picked when there are so many teachers in this district who are amazing," said Chappell, an English and journalism teacher at Central High.
Chappell grew up in Salem and said she knew early on that she was destined for a job in education -- she used to "play school" at home as a child, casting younger family members as students.
Chappell, 53, attended what was then Oregon College of Education in the mid-1970s. She began her career in the McMinnville School District, teaching middle and later high school.
She came to Central High in 1998. Besides her normal class load, she's the adviser for the student newspaper, and is past president of the sports-boosting Panther Club.
"I guess I loved all of the activities there were when I was in high school and had just hoped to get others excited about it, too," she said.
Gabaldon, meanwhile, attended a Catholic school. She said Franciscan priests there who were involved in a number of social rights issues made her proud of her Spanish heritage, and influenced her to want to help the less fortunate.
A double major at the University of New Mexico-Highland, Gabaldon said she chose to go into teaching instead of social work.
"Being a teacher is doing both those jobs -- because you're helping children and their families understand education," she said.
Gabaldon moved back and forth between Oregon, New Mexico and Oregon again during the 1970s. Her husband, Gilbert, was hired by the Central School District in 1980 to head a migrant program while Gabaldon took time off to raise a family.
Gabaldon was hired at Independence Elementary School in 1988 and has taught at almost all of the primary schools here. At that time, she was one of only a handful of bilingual teachers in the district.
She is on Ash Creek's site council and is a member of the district's English Language Learner team. Gabaldon said she's been here long enough to see elementary students go on to graduate.
"When they're in high school, you try to remember their names ... but their eyes are the same," she said.
Chappell said she's eligible to retire and occasionally thinks about it when she's sitting "under a pile of essays" to grade.
"But when I'm in class with students and having fun, or planning with colleagues for the future, I think to myself `I still want to be here for this.'"