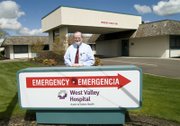 DALLAS -- Bob Brannigan, West Valley Hospital's new chief administrator, said his biggest challenge will be combating the perception West Valley is teetering on the brink of shutting down.
He hasn't wasted time making his mission clear.
"I didn't come here to close down this hospital," Brannigan said last week. "I want to see it grow and turn into a sustainable resource for this community."
He said West Valley has and will continue to have the support of its owner, Salem Health.
Brannigan, 57, began his new job on March 29, just in time to roll up his sleeves to work on West Valley's three-year strategic plan, approved by the Salem Health Board of Trustees in March.
He said the plan's goal is to allow the hospital to grow and provide more services to patients in Dallas, rather than requiring them to head out of town. That includes having more specialists schedule time to see patients in Dallas.
West Valley already has increased the number of days patients can see a cardiologist to four days per week and has decreased wait and service times in the emergency department, which sees an average of 1,000 visits per month.
Future plans include hiring two more primary care physicians and installing new lab and imaging equipment. In additional to that, about $3.25 million in remodeling and upgrades to the surgical unit, the emergency department, patient rooms, specialist clinic space and the exterior of the hospital are planned for 2010 and 2011.
Brannigan comes to West Valley with 30 years experience in hospital management. He most recently was the chief operating officer and vice president for St. Joseph Hospital in Eureka, Calif, where he spent six years. He has a master's degree in business administration, a bachelor's degree in health service administration and a nursing degree.
Brannigan also will oversee the Monmouth Medical Center and West Valley Physicians & Surgeons Clinic.
Brannigan said he believes working as a team with hospital staff is the best why to accomplish goals.
As new as the strategy is, it appears to be off to a good start. West Valley was one of three hospitals nominated for the Oregon Association of Hospitals and Health Systems Innovative Excellence award for its performance during a March 31 crash simulation.
Brannigan said he considers himself a "small-town boy" at heart.
"I love living in small, rural areas," he said.
Polk County seemed a perfect fit, especially considering what Brannigan says he enjoys when not at work: being outdoors, cooking and finding good wine. Brannigan and his wife, Lori, are planning to move into a house just outside of Dallas.
Brannigan said he is pleased with the progress made at West Valley so far and is looking forward to seeing more.
"I'm excited about it," Brannigan said of leading West Valley. "This (hospital) is a real gem. It has some potential, but it will take some work."