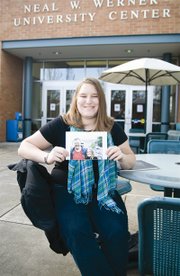 MONMOUTH -- Lucy Pick transferred to Western Oregon University during the fall of 2008 from a community college near her hometown of La Pine. After three weeks here, Pick's parents planned a visit to get their first look at her new campus.
The day before their arrival in mid-October, Pick received a voice mail from her mother.
"It was, `Hey, your dad had a stroke and we're on our way to the hospital,'" Pick said. "I first thought she was just calling to say what time she was coming over."
Pick "freaked out" and drove home the next day. For the next three weekends, she traveled to a hospital in Bend to be with family and visit her dad. Tom Pick, a veteran and hydrologist, passed away on Nov. 10, 2008.
Pick said the rest of that term is a blur now, and that she merely "went through the motions." She suffered a panic attack that winter, wound up in the student health counseling office and considered dropping out. But she didn't.
"I don't know how I did it," she said. "But what helped was having a support system ... one of my roommates, her mom died when she was 12, she had been through this."
Support from friends was integral that tumultuous first year at WOU -- and spurred Pick to create a similar network for other students coping with tragedy.
She and fellow WOU student Austin Karp-Evans spent several months creating a WOU chapter of the National Students of Ailing Mothers and Fathers (AMF).
The group is coordinating activities through Friday in conjunction with National College Student Grief Awareness Week.
"Grief and death isn't something college students like to talk about," Pick said. "We're in our 20s, we don't think about it right now."
According to the National AMF network, 22 percent to 30 percent of college students in the United States have
lost a loved one within the last year
.
On a practical level, students at WOU are encouraged to use the Health and Counseling Center, and to notify administrators if they believe their grief will impact their classes.
But reactions to grief vary by situation and an individual's personality, said Tamina Toray, a psychology professor and AMF adviser.
"Often, students feel that their good friends or roommates get tired of hearing about the loss," Toray said. "And the bereaved student will be hesitant to discuss it with them after some time.
"This group will allow students a place to come and share their thoughts and feeling with others who are grieving."
Pick said her father's death still occasionally overwhelms her. And it's still hard to fathom that he won't be there for her graduation in June, she said.
Classmates who have suffered tragedies helped her cope, Pick said. She said she hoped AMF group's open monthly meetings will do the same for those in need.
"The big thing for students to know is that they're not alone," she said.
Want to Get Involved?
National Grief Awareness Week continues through Friday, April 23.
Western Oregon University's chapter of Students of Ailing Mothers and Fathers (AMF) will display information and set up a memorial wall that students can sign in the Werner University Center.
A panel discussion on college grief will take place at noon today (Wednesday, April 21) in the Oregon Room of the Werner University Center.
For more information: www.studentsofamf.org or torayt@wou.edu.