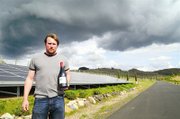 POLK COUNTY -- It's hard to tell what makes Luke McCollom, manager and viticulturist for Left Coast Cellars, more proud.
Is it the pristine grapes and aromatic pinot noir and gris that the north Polk County vineyard and winery makes? Or the environmentally-friendly practices that go into the product?
At the bottom of Left Coast's picturesque property -- which sort of resembles a bowl -- sits a lake that collects enough rainwater to irrigate nearly 100 acres of wine grapes.
A massive solar array nearby makes that irrigation happen. Another, even larger array -- it generates 62 kilowatts -- on the roof of the winery building provides seven months worth of electricity to the facility.
There are more subtle touches, too. A small, rustic pavilion built recently comes from scavenged scrub oak tree falls and recycled wood products.
"Maybe the environment," McCollom said of what he takes more pride in. "What I'm into is the growing and outdoors, and we couldn't get to this step (wine) without the other first."
Since opening to the public in 2007, Left Coast has tried to implement these energy-efficient and sustainable elements into its operation.
"As a whole, farmers are pretty good stewards of the land -- or want to be -- because that's their livelihood," McCollom said. "In the wine industry, there are a lot of inputs ... that everybody needs to take a second thought about."
Left Coast Cellars of Rickreall is one of 30 wineries in Oregon trying to minimize their environmental impact through the Carbon Neutral Challenge initiative.
Created by the Oregon Wine Board, Oregon Environmental Council and Gov. Ted Kulongoski's Office in 2007, the effort assists wineries in assessing and reducing their carbon footprints.
Bethel Heights Vineyard in West Salem is the lone other Polk County wine operation taking part in the effort, perhaps the largest of its kind in the wine business' history.
"It's exciting to me," said Mimi Casteel, Bethel Heights' co-owner and general manager. "We want to lead the charge in making this a more sustainable industry."
Consultants have helped wineries take a carbon inventory on each site, looking at electricity and fuel used. Casteel said Bethel Heights generated about 95 metric tons of carbon equivalents.
Casteel said her company began looking at practical changes first, such as retrofitting its winery with more efficient lighting and insulation. Almost all packaging comes from post-consumer recycled products.
Bethel Heights is also researching lighter bottles, which reduce distribution costs, and allowing buyers to change purchasing habits in order to reduce the number of shipments.
"Consumers are more and more concerned with how products they buy are made, who's making them and how," Casteel said.
By May, construction will also begin on a solar array that will measure nearly an acre, Casteel said.
"I don't know if being carbon neutral will be achievable," she said. "But mitigating as much as possible is something we want to do."
McCollom was years ago part of an organization called the Central Coast Vineyard Team, which promoted sustainable winegrowing in California.
He moved to Oregon in 2003 to work for Left Coast because its "project was a dream," he said. Other green elements here include reduced spraying during the grow season and using waste water from the winery to irrigate the landscaping.
McCollom said Left Coast will be carbon neutral on Earth Day, with purchases of carbon offsets.
"And if we were to calculate the amount of carbon fixated by the vineyard, through leaves and grape branches, we already might be carbon neutral," he added.
--
For more information on the Carbon Neutral Challenge for Oregon Wineries and the wineries participating in the initiative:
* oeconline.org/our-work/climate/carbonneutralwineries
* leftcoastcellars.com and bethelheights.com