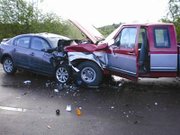 POLK COUNTY -- One person was killed and another seriously injured in a head-on traffic crash Tuesday morning, April 27, on Highway 99W south of Monmouth.
According to Oregon State Police Senior Trooper Tim Plummer, at about 7:20 a.m. a 2007 Mazda four-door driven by Adrianne Louis Ollis, 31, of McMinnville, was southbound on Highway 99W near milepost 70 between Monmouth and Adair Village.
For an unknown reason, the Mazda drifted across the center line on a straight, level section of highway and collided head-on with a northbound 1995 Ford F-150 pickup driven by Patrick T. Finnegan, 45, of Monmouth. Both vehicles came to a stop in the northbound lane.
Ollis was pronounced dead at the scene. She was using safety restraints and her car's airbags deployed.
Finnegan was using safety restraints and received serious, non-life threatening injuries. He was transported by ambulance to Good Samaritan Regional Medical Center in Corvallis.
The highway was closed for about three hours with a detour in place.
OSP troopers from the Salem Area Command office, with the help of Albany and McMinnville area troopers, are continuing the investigation.
Polk County Sheriff's Office, Polk County Fire District No. 1, and Oregon Department of Transportation assisted at the scene.