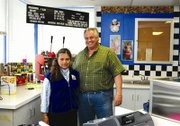 DALLAS -- Olympic Taverna's opening on Friday, April 30, will bring an international dining experience to Dallas.
Owners Peter and Angelos Liakopoulos said they wanted to bring more culinary variety to the Dallas area. Originally from Chicago, Peter's goal is to duplicate the offerings of the famous hot dog and gyros stands in the Windy City.
The menu features half-pound hot dogs in the Chicago style, a Coney Island-style chili cheese dog, and the "Big Easy" topped with chili and cole slaw. Italian and Polish sausages, and Greek and Italian sandwiches and salads, round out the main menu.
Appetizers offer feta cheese and olives, hummus and pita bread, spanakopita, along with other Greek and American favorites.
Beer and wine will be served to pair with menu items. Soon, Olympic Taverna will host wine tastings. For early risers, Olympic Taverna will serve coffee drinks and pastries from 6 to 8 a.m.
Peter said that even though the restaurant is small, formerly the gas station on the corner of Washington and Main streets in downtown Dallas, the location couldn't be beat.
"We like what they are doing with the downtown," he said.
The property's large parking lot is perfect for outdoor events in the summer and the proximity to the town center is convenient for the lunch crowd from county and city offices.
Prices range from $4 for a hot dog to $12 for a sausage plate for two. Appetizers range from $1 to $7.95. A "student menu" will include a $1 corn dog and $1.50 hot dog.
Angelos said they have tried to keep the prices low, especially for families. A kids menu has full meals at $3.50 or less.
"We knew that not a lot of people have a lot of money to go out," she said.
Fun tidbits of Greek mythology (with a few changes for local flavor) decorate the tables, including descriptions and histories of Greek gods.
One wall in the restaurant is dedicated to honoring members of the military. Customers can post items honoring current soldiers or veterans. Angelos, who lived in Dallas 25 years ago, started the collection with photos of her own family members, who have served in the French Foreign Legion and in wars in Korea and Afghanistan. She expects the wall to fill up fast.
"I can tell that this town is real ... patriotic, which I like," she said.
After a few delays in getting started, the Liakopoulos are hoping the opening will be a chance to get customer feedback and suggestions before a grand opening celebration later in the year.
Early indicators suggest they'll see more than a few customers this weekend. Since starting work on the outside, people have been showing up asking when they will be ready for customers.
"Originally, we thought we would be open in March," Peter said. "We made it just in time for May."
Opa!
What:
The opening of Olympic Taverna on Friday, April 30, at 6 a.m.
Business Hours:
Tuesday through Friday 6 a.m. to 7 p.m. and Saturday 11 a.m. to 7 p.m.
Location:
At the corner of Washington and Main streets in Dallas.
For more information:
503-551-6190.