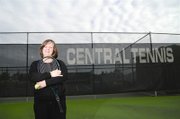 INDEPENDENCE -- Patty Nevue moved to Independence 18 years ago, not long after she and now mayor John McArdle married.
It took only a short time to get acclimated to her new surroundings, as Nevue began volunteering in earnest.
"That's the way you stay connected to your town," she said. "Kids grow up and you want to feel a part of it."
For example, in 1993, she helped stage Polk County's celebration of a re-enactment of the first wagon train traveling over the Oregon Trail.
She happened to be pregnant with her son, Marcus, at the time.
"Shortly after he was born, he joined his mother, riding in a covered wagon as part of a parade in Dallas," McArdle said. "Ever thoughtful, she made sure he was in his state-approved car seat."
Since then, Nevue has been a mainstay in Independence as an event and project planner and fundraiser extraordinaire, most recently lending her efforts to help Central High School raise enough money to install artificial turf in its forthcoming stadium.
Nevue, currently a substitute teacher within Central School District, has been selected the winner of the Monmouth-Independence Chamber of Commerce's First Citizen Award.
She and other distinguished residents and students will be recognized Thursday, April 29, at the chamber's annual awards banquet at Western Oregon University.
"I was delighted and shocked at the same time," said Nevue, 57, who joins her husband as a recipient of the honor.
If McArdle is known as Mr. Independence, Nevue is ... well ... you get the picture.
Nevue said she grew up in Roseburg in a neighborhood where kids played every sport. A tennis ace, Nevue ended up at Oregon State University as a top-ranked player.
After earning a master's in occupational therapy a few years later, she returned to OSU as a coach, put on tennis clinics across the nation, and played competitively in the Northwest.
Between 1985 and 2008, Nevue worked in physical and occupational rehabilitation and public affairs for health organizations, and headed several nonprofit groups in the Willamette Valley.
Somehow, she's managed to squeeze in a plethora of volunteer work in her hometown.
She's spent five years as part of the old Western Days commission, and helped redesign the chamber's awards banquet in the early 1990s.
She's put her tennis and athletic prowess to work as a coach for the Monmouth-Independence YMCA and Central Youth Sports, and has been a volunteer assistant coach at Central High.
At the high school, she's helped plan numerous music program fundraisers, and been a member of the Panther Club sports auctions.
Nevue, a Rotary Club member, and McArdle also frequently open up their historic home as a venue for local benefit events.
"She's a person who will say `yes' to anything that would benefit the Monmouth-Independence community," said Shane Hedrick, Central High athletic director.
Even if it means going behind the microphone. Nevue began doing play-by-play for Central High's junior varsity and varsity basketball games within the past few years through a regional sports Web site.
"I've actually run into people in the grocery store say, `hey I heard you call the game,'" she said. "There probably wasn't a ton of people listening, but it was a service to parents and grandparents who want to hear games.
"When you're living here and raising a son in this town, you get a chance to be a part of it," Nevue added.
MICC Awards
What:
Monmouth-Independence Chamber of Commerce Community Awards Banquet.
When:
Thursday, April 29, 5:30 p.m.
Where:
Pacific Room, Werner University Center, Western Oregon University, Monmouth.
Tickets:
$35 each or two for $60.
Award winners:
Patty Nevue (First Citizen), Robert "Bob" Barlow (Distinguished Service), Elizabeth "Betty" Plude (Distinguished Service), Coy Cossey (Good Neighbor), Monmouth-Independence Community Foundation (VIP Award), OSU Federal Credit Union (Large Business of the Year), Petals & Vines (Small Business of the Year), Main Street Pub and Eatery (New Business of the Year), and Polk Halo (Nonprofit).
Schools in Monmouth and Independence will also recognize their leading students, and the Central Education Association will honor Mary Gabaldon and Terri Chappell as its primary and secondary teachers of the year, respectively.
For more information:
Monmouth-Independence Chamber of Commerce, 503-838-4268.