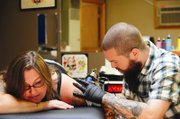 INDEPENDENCE -- There's a racket emanating from the construction happening down the block from Kevin Hamlin's tattoo studio in Independence. Heavy metal music blares from speakers inside.
But Hamlin's focus doesn't stray from the task at hand -- a naked patch at the top of Robyn Tuttle's heavily tattooed left arm.
He dips a tattoo machine needle into a cap filled with black ink, and begins tracing over the stencil of a long-tailed tropical bird. Tuttle said she saw the image on an Ed Hardy calendar.
Pigment and a bit of blood begin to pool on the surface. Hamlin mops away the excess with soap and water, applies petroleum jelly to alleviate rawness from constant rubbing, and continues.
Hamlin and Tuttle, brother and sister, chat over the high-pitch buzz of Hamlin's machine. Throughout the hour-long process, Hamlin's hand never waivers.
Tuttle takes a moment to admire a finished outline, while Hamlin breaks out the red, blue, purple and white ink. He starts to "paint" with a wider needle head. Tuttle cringes.
"I don't mind the lines, but the coloring in part is always a little bit ... pinchy," she says. "But it means we're nearing the end."
--
The reasons a person gets a tattoo is as varied as the number of images that can be engraved onto the skin.
Pat Grennan of Monmouth, for instance, stopped at Hamlin's Main Street Tattoo just a day earlier for American and Japanese flags on his right shoulder.
It's a sort of nod and visual representation to his dual ethnic heritage, Grennan says.
But what makes somebody want to tattoo people for a living?
Hamlin, a 29-year-old tattoo artist who's put ink on everyone from bikers to soccer moms in the last decade, chuckles.
"Because they're a crazy person who can't find better things to do," he says.
As a youngster, Hamlin says he was intrigued by old Army tattoos, including the eagle and rose adorning his World War II veteran grandfather's arms.
"He wasn't proud of them ... it was one of those,`Learn from my mistakes' things." Hamlin says. "Obviously, the reverse psychology didn't work."
Hamlin is from a logging family that moved around Oregon before settling in Scio. He liked drawing growing up. In middle school, he started listening to heavy metal.
"And I would see the guys with tattoos and thought it was cool," he says.
He walked into a tattoo parlor for his first ink at age 18 during a trip to Arizona -- and walked out with an Aztec design on his leg.
"But when I was in the shop and once I saw the process, the art, the smells ... that made me even more interested in tattoos," he says. "It seemed like it would be a pretty fun thing."
Hamlin learned the craft through several avenues: going to a tattoo school to receive a license, poring over books and magazines, along with the old method of hounding older artists into giving you tips.
Hamlin's first tattoo customer was himself.
"I was extremely nervous," he says. "But I figured if I was going to mess something up, might as well do my own leg instead of somebody else's ... but it went smoothly."
It's been working in tattoo studios in Corvallis, Holey Cow and, later, Sacred Art, for the past 10 years that's allowed Hamlin to develop, he says.
His personal designs start as doodles or random objects that he "works into a tattoo." He describes his style as "traditional American stuff" -- hearts, skulls, hammers -- drawn with a colorful, almost 1940s-looking, aesthetic. Hundreds of samples adorn the walls of Main Street Tattoo.
"With an Asian tattoo, there's a look and lineage to them that defines them," he says. "American stuff is the same way ... it's important that those don't get lost and forgotten over time."
Hamlin says tattooing is a continuous learning process. Even after a decade in the field, he considers himself "a rookie."
But after moving to the area with his wife in 2008, and learning of the open storefront in downtown Independence a few months ago, he decided to take a chance on his own parlor. He's had more customers at his parlor since opening on July 3 than he thought he would.
"Everybody I've talked to here has to drive to Salem to get tattoos, so it seemed like maybe there was a market for it," he says.
Tattoos have enjoyed a surge in popularity in the last 15 years, boosted by inked professional athletes, movie stars and reality shows featuring
nationally renowned parlors.
Hamlin says tattoos aren't quite accepted by the general populace -- but they're beyond common.
"Every place you go, you see people with lots of work done on them," he says. "It's not scary to go into a tattoo shop anymore."
Case in point? Hamlin says his last client before leaving Corvallis was an 83-year-old veteran who never had gotten a tattoo during his 10 years in the service. Hamlin says he started him off with an eagle on his arm.
"He came back two weeks later," Hamlin says. "And decided he was down for doing the Statue of Liberty on his chest."
Main Street Tattoo is located at 259 S. Main St. in Independence. Operating hours are noon to 7 p.m. Tuesday through Saturday, and by appointment on Monday.
All customers must be 18 years or older, and will be asked to present valid identification.
For more information or to contact Kevin Hamlin, call 503-838-9891.