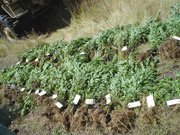 POLK COUNTY -- Authorities discovered a marijuana grow in a secluded section of timberland in northwest Polk County on July 28 that could have potentially yielded millions of dollars.
The discovery of more than 3,700 small marijuana plants is one of the largest seizures the Polk County Sheriff's Office has ever conducted, Sheriff Bob Wolfe said.
The plants were found about 400 yards off private logging property near Gold Creek Road, a few miles southeast of Grand Ronde.
Officials received an anonymous tip about the grow in late July, then saw it firsthand during a helicopter flyover with the Oregon Army National Guard, said Deputy Shane Zook.
Law enforcement from Polk, along with Yamhill and Lincoln counties, hiked to the grow and uprooted the plants.
It's believed multiple people were involved in the operation, but nobody was present during the seizure and no suspects have been arrested.
Deputies did find irrigation lines, gas-powered pumps and some trash. It's unknown how long the plants had been there.
"Without the tip, we may have found it during our normal flyovers, but there are no guarantees," Zook said. "It was fairly well hidden."
Most of the plants ranged between 8 inches and 2 feet, said Zook, who's charged with patrolling forests owned by timber companies.
Zook said the actual volume of marijuana was no more than he's found in grows with 100 mature plants. Fully grown, however, each could have had a street value between $1,000 and $2,000, Wolfe said.
The plants are being held in storage and will eventually be destroyed, Wolfe said.
The sheriff's office will find anywhere between two to 10 outdoor marijuana gardens a year in the county's rural wooded areas. Some operations sit camouflaged under tree canopy or among newly planted fir to make detection more difficult.
Sites usually contain between 50 to 400 plants, which makes this discovery surprising, Wolfe said.
"I hope it's not a sign," Wolfe said. "We don't typically get grows of this size in Polk County."
Zook said the abundance of creeks and drainages in Western Oregon means easy access to water -- "and endless places to grow."
Land is tougher to access, particularly in the Cascade Range where most of the forests are owned by logging companies that lock roads. The county patrols those areas. Still, growers manage.
The operation found last week was located on property managed by Hancock Forest Management.
Jeff Vermilya of Hancock's Dallas office said he believed there had been a few instances where marijuana gardens were found on remote parts of his company's acreage in the past, but this was the first he was aware of in the last two years.
"We're certainly concerned about the illegal use of property," he said. "We're aware these things represent a risk ... luckily they haven't happened very often."
While this recent grow was one of Polk County's largest, it still pales in comparison to what Central and Eastern Oregon counties face. Vast amounts of public land there means gardens with plants numbering into the tens of thousands occur.
According to the Federal High-Intensity Drug Trafficking Area program, 208,500 outdoor-grown plants were seized in Oregon in 2009. Much of that is believed to originate with Mexican drug cartels.
Southern Oregon has experienced problems in recent years with Mexican nationals running large, clandestine grows on remote public land that are manned by gun-toting gardeners 24-hours a day.
Wolfe said the scenario hasn't been encountered in Polk County to date.
"But we don't typically get grows of this size," he said. "This one gives me a little more concern because of the size of it."
Zook added: "If somebody walks into a grow, walk the other way and call the sheriff's office."
Anyone with information about the marijuana grow off Gold Creek Road is encouraged to call Deputy Shane Zook at 503-623-9251.