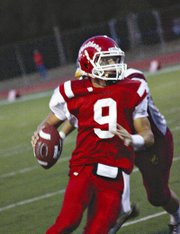 INDEPENDENCE -- Like many of us, 2010 Central graduate Grant Hedrick sat warmly and snugly in front of the television Nov. 26 and watched in stunned amazement as previously unbeaten Boise State lost 34-31 to Nevada in an NCAA football game.
Unlike the rest of us, though, Hedrick has a very strong and direct connection to the Broncos because he's on the team's roster as a red-shirt freshman quarterback. Hedrick is not on the Boise State traveling squad and was allowed to return home to Independence for Thanskgiving.
As Hedrick and everyone else saw, Boise could not hold a 17-point halftime lead against Nevada and lost after field goal kicker Kyle Brotzman missed two chip shots late in the game.
"It kind of shows how crazy the game of football can be," Hedrick said. "Those things happen. You really can't take anything for granted. You've just got to move on."
Hedrick was a three-year starter at quarterback for the Panthers. He passed for 7,975 yards and 103 touchdowns and ran for another 3,259 yards and another 42 scores.
Needless to say, he's more accustomed to playing football than watching it on television.
"It's a little different than what I'm used to," Hedrick said. "But it's good to watch on TV and know those guys and know how hard they work during the week. Most weeks, it pays off. It's a little nerve-racking to be sitting there at home and not be able to control anything. But it's fun to work with those guys and see them perform on the weekend."
Hedrick hasn't played in an actual game with Boise, yet, but remains an integral part of the squad as the scout team quarterback. Each week in practice, he assumes the role of the opposing team's quarterback and plays a key role in the preparation for Boise's defense.
"It's kind of fun," Hedrick said. "You go out there and play, run the other team's offense against the No. 1 defense every single day in practice. It definitely makes you better going against that kind of challenge. It's made me better physically and mentally. I've definitely learned a lot from it."
As the son of a high school football coach, Central's Shane Hedrick, it would seem Grant would have been more prepared than most for college football. But the younger Hedrick says his first few months in Idaho have been real eye openers.
"It's awesome," Grant Hedrick said. "It's nothing like I ever thought it would be in terms of how much time you've got to put in. It's like a job. As a red-shirt freshman, I start lifting at 5:45 in the morning. Then we've got meetings and classes and practices and study halls. I don't get home until 8:00 at night. I'm loving it. It's a great experience being here with this amazing program."
Hedrick ran track last spring at Central in an effort to increase his speed. The plan worked so well that Hedrick qualified for the Class 4A state meet in the 100 meters, 200 meters and the 400 relay.
He has continued to develop his quickness at Boise, and Bronco coaches reportedly have been impressed with his efforts.
"Over the summer, I worked pretty hard in our speed workouts," Hedrick said. "Plus, I've never lifted (weights) so hard in my life. I've gained 13 or 14 pounds since I've gotten here, and I've gotten a little faster."
Hedrick, who currently weighs in at 187 pounds, is taking 15 hours of classes this semester.
"I'm just kind of taking the basics, getting them out of the way," he said. "I want to be a coach and a teacher like my dad. That's the way I'm leaning now, but who knows?"
Boise's starting quarterback this season is junior Kellen Moore, who is the school's career passing leader in numerous categories.
Moore could leave for the National Football League after his junior season or return to Boise for one more year. In any case, the Broncos soon will need another starting quarterback, and Hedrick plans to be ready.
"I've talked with the coaches about it a little bit," he said. "They're excited with the way I'm performing. I just want to keep improving physically and mentally. I've got some work to do. It takes time. Next year, hopefully I'll get in the mix a little bit. I won't be starting, but maybe I can get a snap here and there. Once Kellen leaves, it's anyone's game."