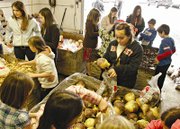 PERRYDALE -- Perrydale FFA and its many partners in the annual Food For All food drive may have done it again.
It could be close, but last year's record amount of nearly 211,000 pounds is in danger of being broken, with collections at 180,000 pounds last week and more on the way.
"We are planning on exceeding that this year," said Emily Crowe, Perrydale FFA chapter vice president of community development.
Food For All has been a growing tradition -- collecting more food and more partners each year. In 2009, the drive surpassed all expectations by shattering the 2008 collection total by 50,000 pounds.
By all appearances, 2010 could continue the pattern of breaking records -- and more importantly, working with others -- to help even more people in need.
Food collected comes from area farmers and produce distribution centers. It's fresh vegetables and fruit that will be added to food boxes distributed in the Willamette Valley and on the Oregon Coast.
Receiving and delivery of the amount of food the drive brings in requires weeks of packaging and a high level of organizational skill.
Perrydale FFA Chapter Advisor Kirk Hutchinson and Perrydale's FFA officers manage to keep the work flow organized and moving.
To a first-time visitor, though, the scene would look like complete confusion.
Last week, Perrydale students of all ages were packing family-sized bags of produce from larger sacks and bins in the school's chilly but constantly busy shop.
Students and volunteers gathered around enormous wooden boxes of rutabagas, beets, turnips and parsnips, putting each kind of vegetable in plastic bags and then passing the bags to the next bin. When full, the bags were tied and stacked in an unruly pile. Then another set of students transferred them into another bin.
Many such piles of bagged vegetables and fruit were scattered throughout the shop and shed at the school. More bins of produce waited outside.
There was laughter, shouting and noise everywhere among the volunteers who squeezed into the work area.
"It's always utter chaos," said Joe Heibenthal, Perrydale FFA's sentinel. "But that utter chaos turns into productivity."
What may not be obvious is that each student has a specific task in a mission led by Hutchinson. They are packing for a schedule of deliveries the chapter will make in the coming days. Somewhat precise quantities of produce go into each bag and a certain number of packages are created for each location. Once bagged, the produce is put in containers or on pallets and placed onto trucks for delivery.
At any given time, 10 to 60 or more students could be working on such tasks.
Hutchinson made rounds, shouting orders over the activity.
A booming voice is a necessity for this work, as is an ordered system, most of which is in Hutchinson's head.
"Hutch has it all organized somehow," Crowe said.
A senior this year, Crowe is savoring the experience. She has participated in Food For All in some capacity since she was in middle school. This year she is part of the team coordinating the collection and deliveries. Working on the food drive and other FFA activities has taught her to lead rather than follow, she said.
"I'm just really happy to have an opportunity to do this," Crowe said.
Heibenthal said delivering the food to people is especially inspiring for those who have the chance.
"You can see the joy in their faces," he said. "This could be their Christmas dinner you are delivering."
While not all students who work on the project have an opportunity to witness that, Heibenthal believes all volunteers understand the purpose of the drive.
"They all know that this is going to help needy families," he said.
Crowe said every opportunity to help, no matter how small, is a lesson for students.
"It's a learning experience," Crowe said. "Even if they think they are just freezing or goofing around with their friends, they are still learning."
This will be the last year Hutchinson will be the advisor for the chapter, but Crowe and Heibenthal hope in spite of changing roles Food For All will continue to be strong.
A good sign for the future is the students' willingness to pitch in year after year.
"We have a great group of students working to make this all possible," Hutchinson said.
While Hutchinson is very much the heart of the food drive, he gives credit to the project's partners: the farmers and distributors who donate, FFA chapter members in Perrydale, Willamina, Dayton, Amity, Sheridan and Yamhill-Carlton who help pack and deliver the food, and finally to the service organizations that assure it gets to those in need.
"It's a tremendous group activity," Hutchinson said. "No one person makes it all work."