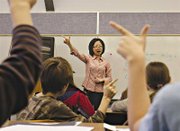 MONMOUTH -- Caleb Centanni plans to travel with his family to Taiwan next spring to visit an older brother working in the country.
A fifth-grader at Monmouth Elementary School, Centanni said he certainly doesn't expect to be fluent in Mandarin Chinese by then.
"But I think that I'll probably be able to say a few words and run a small conversation," he said confidently.
His mother, Robin, said her elder son is actually impressed with Caleb's accent and pronunciation when communicating via web conferencing.
And there's a reason for that -- an after-school Chinese language program now being offered at MES.
The school entered into an agreement with the English Language-Culture Institute in Monmouth, which has been providing basic instruction several times a week for 25 fourth- and fifth-graders since Nov. 30.
"This is the perfect age to teach them," said Nan Xie, a WOU student and native of Tianjin, China, who's been leading the class. "They're able to absorb a lot of complicated things about language."
MES Principal Dorie Vickery said ELCI approached her school this fall about an after-school program prompted by a partnership opportunity that had arisen with an institution in Taiwan.
The idea was to have local students practice Chinese and conduct Skype video conferencing with their Taiwanese counterparts. All of the class slots were filled within a day, Vickery said.
"Children in elementary schools are curious of other languages," she said. "This taps into that ... you develop empathy for other people learning a language. This also opens things up for students, to show them MES is not the world."
The Skype sessions have been postponed, as the agreement with the original Taiwan school has fallen through. But ELCI representatives are seeking a replacement institution, and still hope that a proposed exchange visit by Taiwanese students will happen in 2011, Vickery said.
In the meantime, MES youths are getting three days of instruction each week in Chinese geography, folklore and language.
During a earlier this month, Xie showed students how to write from one to 10 using Chinese characters and taught them vocabulary for family members and sports. In Chinese, soccer is "ti zu yiu."
She also ran through basic introductions in Chinese, such as:
* Ni jiao shenme mingzi? What's your name?
* Wo jiao John. My name is John.
Xie moved to the United States in 2008, and has been living with her husband in Independence for a year. She has an English degree from a university in Japan -- she also speaks Japanese.
Xie said Chinese students learn English from the last year of primary school through high school. Still, it's taken practice and exposure to become fluent.
"I really appreciate this opportunity to teach," she said. "My personal experience has taught me that language can open a lot of doors in life ... this is a great time to let the kids know a different culture in such a globalized society."
Cade MaGill, a fifth-grade student, signed up because of an interest in Chinese drawings and martial arts.
"I wanted to learn about China and I thought this would be cool to do," MaGill said, adding, "It's actually easier than Spanish."
For more information on the English Language-Culture Institute and Monmouth Elementary School's "Taiwan Buddy Program," call 503-838-1433.