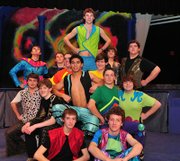 INDEPENDENCE -- Jeff Witt has a hard time relaying the plot of Central High School's upcoming musical, "Starmites," without laughing or turning red.
Why?
For starters, the production revolves around a girl escaping into the world of her favorite comic book. She then teams with a group of intergalactic guardians to find a powerful musical instrument before it falls into the hands of the evil "Shaak Graa."
"It's ... cheesy goodness," Witt, director of Central High's drama program, explained.
Performances of "Starmites" will run from Feb. 10-13 and Feb. 16-20.
The play was written by Stuart Ross and Barry Keating and performed on Broadway in 1989. It's more or less a space opera mixed with Peter Pan whimsy, doo-wop vocals and 1980s synthesizers.
Witt said he saw "Starmites" performed while still in college. While there's not much depth to it, it's "a fun show," he said.
"But there's a lot of dancing and the music is infectious," Witt added, noting that he's been advertising the show to youths at schools around Polk County and in Salem.
The cast numbers 46, with 14 speaking roles. And the majority of the production is song and dance. Witt said one challenge was making certain his male leads could hit falsetto notes. The other "was being able to step out of their comfort zones and being as geeky as we need them to be to pull these characters off," he said.
Katie Ayers, a junior, plays the mother of the lead character and a villainous "Banshee."
"The plays I've been in before were normal ones like 'The Sound of Music,' she said. "This one is kind of out there -- but it's exciting."
Witt's theater tech class designed all of the costumes, which entail a lot of neon and metallics.
"It's a little Flash Gordon and a little Buck Rogers," Witt said. "They designed them with their idea of what superheroes should look like."
"Starmites" is also notable in that it's the last musical or play to be performed inside what's come to be known as the "cafetorium."
Ayers said she and others have had to cope with the noise during rehearsals this year from construction taking place just outside on the 599-seat auditorium students. That facility will open next fall.
"It's been fun here," she said. "But it will be a lot more fun in the new auditorium."
BREAKOUT BOX:
Starmites
What:
"Starmites."
Where:
Central High School cafetorium, 1530 Monmouth St., Independence.
When:
Feb. 10-13 and Feb. 16-20. All shows begin at 7 p.m., except for a special performance for senior citizens will be at 6 p.m. on Feb. 10.
Admission:
On Feb. 16, students can get in for $3. For all other days, tickets are $5 for youths 18 and under and $8 for adults.
For more information or tickets:
503-838-0480.