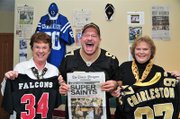 MONMOUTH -- Jeff Charleston, a defensive end with the New Orleans Saints, was a sophomore when he played for a Central High School football team that spanked the competition during the Class 3A state playoffs in 1998.
Ultimately, the Panthers were nipped by Sisters in the final seconds of the championship game.
"We were ahead," said John Charleston, Jeff's dad, with just a twinge of regret. "And then we found out their quarterback had an arm on him."
So the "shrine" that John keeps of Jeff's athletic accomplishments -- which occupies a whole room in his home -- is missing a commemorative letterman jacket patch. But John doesn't lament it.
In the not so distant future, maybe he can fill that space with Jeff posing with the Vince Lombardi Trophy.
Jeff and the Saints will be battling the Indianapolis Colts -- Jeff's former team -- at Super Bowl XLIV on Sunday.
Jeff's parents, older siblings, his grandmother, Judy Doughty, all accustomed to watching Jeff play when he was at Central High, and later, Western Oregon University, will be in Miami for the game.
Spontaneous chants of "Who dat?" -- a Saints cheer -- and memorabilia bearing the fleur de lis have been common place in the Charleston home just north of Monmouth, where Jeff was raised.
"We're not cloud nine, we're on cloud 99," said John, wearing Jeff's old Saints cap -- which he rarely takes off these days.
Shelley, Jeff's mom, said she talks with Jeff regularly on the phone, including after games. Normally, Jeff isn't one to display his emotions, she said.
"But with this ... he's very excited," she said. "If you're playing football, this is the greatest thing you can strive for.
"And to reach it is an amazing thing."
John Charleston said people have been "coming out of the woodwork" since New Orleans defeated the Minnesota Vikings during the NFC title game on Jan. 24 to congratulate the family.
Judy said she was mobbed during her bowling night in Dallas a week ago by fellow seniors, all of them yelling "you're going to the Super Bowl!"
And, of course, there's been inquiries about tickets, John said.
"People think, 'oh, you get every ticket you want,'" John said. "Jeff has enough for six family members ... you draw straws."
Jeff was bigger than most kids his age when he started playing football, said John, a former Hewlett Packard engineer who relocated his family from Atlanta to Monmouth in the mid 1990s.
"He always said to me, 'I'm going to the NFL,'" Shelley said. "I would explain he needed an education to fall back on, and he said, 'No, I'm going to the NFL.'"
They've watched Jeff strap on the pads from middle school at Talmadge, to Central High, WOU, and then Idaho State University for his senior year in 2005.
Jeff signed as an undrafted free agent with the Houston Texans in 2006, played for the Colts the following year, and then came to New Orleans in the fall of 2008. He might now become the second WOU player, after the New York Giants' Kevin Boss, to nab a Super Bowl ring.
"You know, I go to (Central High) games now and it's deja vu," John Charleston said. "It wasn't that long ago that he was playing right here."
John has managed to make it to five Saints game this year. He was sitting in the end zone when they beat the Vikings. As parents of an NFL player, they've also gotten to meet other players and their families during postgame gatherings.
"It's informal, we sat at a table one time with (tackle) Anthony Hargrove and his kids," John said. "This last time, (cornerback) Lee Torrence's mother and I saw each other after the game."
The Charlestons -- or John, anyway -- have held onto magazine and newspaper stories that mention Jeff, photos, and ticket stubs to his games. John mentioned that they still have a "ton" of leftover Colts jerseys because of Jeff's stint in Indianapolis.
"At first, when he went to the Saints, we thought maybe we better not do that again because he might only be there so long," Shelley said with a laugh.
The Charlestons said "Jeff is Jeff" when he visits Monmouth during his offseason, hunting with dad and playing cribbage with Judy. He even does farm chores.
"We'll send him out and tell him to throw some hay bales around," John said.
Jeff's parents, meanwhile, are free and easy with the anecdotes about Jeff's career thus far, like when he showed up for the Colts training camp in 2007 in his typical jeans and Western-style shirt and was ridiculed for dressing like an electrician.
"They asked him if he was there to change a light bulb," John said.
John said the family prays before every game for Jeff, both for his safety and a good performance. Sounding particularly NFL savvy, Shelley said Jeff is in a great position as a free agent at the end of the season because of the exposure he'll get from other teams.
And sounding very motherly, she also said: "I want the Saints to win the Super Bowl ... but if they lose, but play the best they can, I'm OK with that."
John, who said he just might race out onto the field if the Saints are victorious, is less diplomatic.
"I want to see Jeff sack Peyton Manning!" he exclaimed.