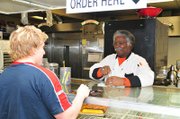 MONMOUTH -- If you visited the DownTown Cafe on a given morning, you've probably noticed several well-traveled gentlemen gathered at one table, conversing on anything from politics and books to fishing.
They've been referred to as "the coffee boys" or "coffee clutch boys" -- or by their wives as "old farts."
"It's quite possible most of the world's problems have been solved at this very table," said Frank Murphy of Monmouth.
Membership has changed over the years, but the regular morning gathering of retirees at this spot had been a constant since the early 1990s, when the cafe was still called the Market Place.
It's the discussion that draws them back, Murphy said. And the coffee -- $1 a cup and unlimited refills.
This past Saturday was the group's last hurrah at the cafe, which is owned by the nonprofit Partnerships in Community Living (PCL).
The agency was forced to close the business, which was used to train people with disabilities, due to reduced state funding.
"We're sad to see it go," Murphy said. "The staff here is always helpful and courteous."
Gary Zenzen, PCL business development director, said the state's Seniors and Disabled Services Division cut funding for training organizations throughout Oregon the week of Christmas because of a poor revenue forecast.
Because of its size, PCL suffered one of the steepest cuts, at more than $182,000 -- 15 percent of its employment budget.
The state capped the amount PCL can receive per "client" support at $1,800; more than half of the clients have disabilities that require more support than that, Zenzen said.
And nine full-time positions, including four at the cafe, were eliminated when the DownTown Cafe closed Jan. 30.
Luckily, all of those individuals will be transferred to other PCL programs, as will all of the clients who held support jobs at the site.
Zenzen said there was no choice but to eliminate the cafe.
"It was sustainable, but it represented a significant cost to us," he said. "We didn't feel we could maintain it."
PCL leased the property, previously a bakery, in 2000 to use in its first business venture. Three years later, it was expanded into a cafe.
Zenzen said it is PCL's hope that the storefront could be leased to an entity with a service mission.
Charles Thomas III has worked for the agency for 7« years and managed the cafe for the last three.
"It's provided a training ground for the (clients) who worked here, and gave them a sense of belonging and a way to contribute," Thomas said.
It had also become a regular spot for area seniors and Western Oregon University students, Thomas said.
The coffee clutch boys, meanwhile, have relocated the coffee cup rack they built to Rick's Place down the street. Dennis Eberly of Monmouth said the DownTown Cafe will be missed.
"The staff was always smiling and happy to see you," Eberly said.