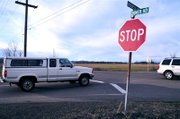 POLK COUNTY -- The intersection of Riddell and Clow Corner roads will soon be getting a safety upgrade.
A total of 39 accidents have occurred near the intersection since 1997, 17 of them involving injuries, one of which was fatal.
Polk County Public Works Director Ken Husby said nearly all the accidents are caused by driver error and almost elusively involving cars entering the intersection from the north-bound lane of Riddell Road.
The frequency of crashes has prompted the Public Works Department to add more attention-grabbing elements on Riddell Road's north-bound lane approaching Clow Corner to warn drivers to stop at the intersection.
With no obvious reason for drivers to not see the stop sign on that side, the number of incidents is a bit baffling to Husby.
"This intersection is in wide open spaces," he said.
He added that his department has been monitoring the intersection for some time.
"We've been watching it and wondering why there has been so many accidents," he said.
A recent flurry of accidents, including two during the last two weeks of January, spurred the department to take action now.
A set of "rumble strips," or ground-in grooves, stretching across the north-bound lane will serve as a noisy warning of the upcoming stop. Two sets will be installed in the roadway before the intersection. The crew also will install an LED stop sign that flashes when cars on Riddell Road approach Clow Corner.
That's music to the ears of Dallas resident Patti Geer, who works in Corvallis and used to drive through the intersection daily. She witnessed numerous close calls on her commute, even multiple near-crashes in one day.
"I've been avoiding that intersection," Geer said. "It adds a little more time to my commute, but I think it's worth it."
Her route change has her driving home on the north-bound lane of Riddell. She, too, doesn't see a reason for drivers to miss the stop sign.
Currently a "stop ahead" warning sign with orange reflector strips is posted for north-bound drivers and the stop sign itself is larger than normal.
"It is the largest we can put on that size post," Husby said. "It's a 3-foot sign."
Husby said the road crew will survey the corner to take a closer look at intersection layout and visibility at the line marking where cars should stop. They will be looking for ways to improve drivers' view of traffic on Clow Corner.
Husby said the county requested bids on rumble strips last week and ordered the stop sign, which a county crew will install. He said he hopes between the two measures, the intersection will be safer.
Geer said she and her co-workers will appreciate being able to switch back to their normal route to and from work.
"I think its wonderful," Geer said. "Hopefully it will save some accidents from happening."
BREAKOUT BOX INFO:
The intersection of Clow Corner and Riddell roads between Dallas and Monmouth has been the site of numerous accidents -- and even more near misses -- in recent years.
The statistics since 1997, according to Polk County Public Works:
* 39 reported accidents
* 17 accidents involving injuries
* 1 fatal accident
Nearly all of the accidents are caused by human error and almost exclusively involving cars entering the intersection from the northbound lane of Riddell Road.